It's day 75 of quarantine which means I have been with my husband and daughter 24/7 at home that long. Today, Alessa, my two-year-old toddler, woke up earlier than I did. It was 6:30 in the morning and she asked for milk. Half-asleep, half-awake — I happily obliged.
I am a career momma from Manila. The usual workweek means taking care of the bub during weekends of the day and diving into work in between. Weekends? One more day in playschool, going around the metro for errands, or just simply having family time at home or in the park. We also squeeze in out of town trips when time permits and travel out of the country at least twice a year.
This was my life before the pandemic. Truth be told, the situation we're now all in is beyond difficult and challenging. Some can probably handle it better than others but maybe for most, it could be a struggle. As for this momma, I am trying so hard to stay optimistic and grateful. TRY. That's the operative word. And when it gets tougher than usual, mini meltdowns aside, I'd snatch some ME time which could sometimes mean sorting through our family photos and videos on my phone and just lovingly look back on those memories.
I have a lot of favorites — the travels that involve riding a plane as Alessa loves it so much, the beach trips, and even those times when we would just do all the random yet fun things to tire the bub out. I also have to admit that staycation, while it's very rare, is part of the list.
Staycation was never in our vocabulary until Marco and I became parents. We thought it was just a waste of money and that there were far more exciting things than drowning ourselves in the softest sheets with heavens know how many thread counts there are and of course getting room service. Now, I'd say, it ain't too shabby at all especially when you see your kid having the grandest time.
I can still fondly remember how we spent the last weekend of February in a rather fancy hotel that had the perfect view of Manila Bay's breathtaking sunset. I never thought this will be one of the last things we can freely do together as a family that's why it really hits the spot.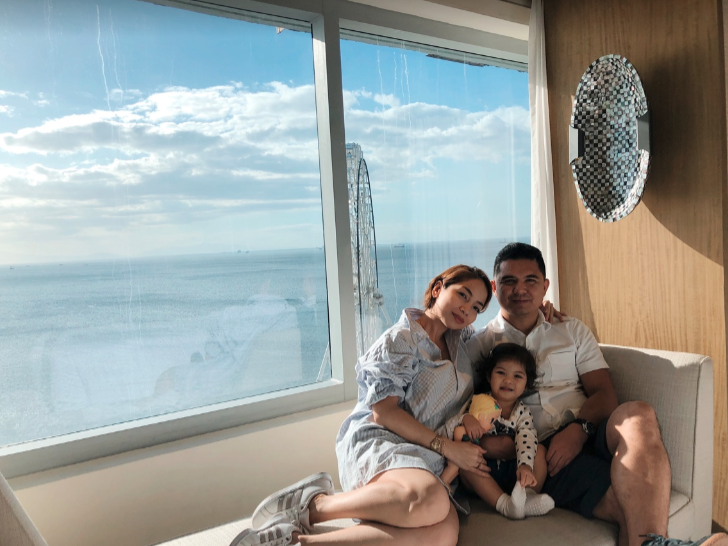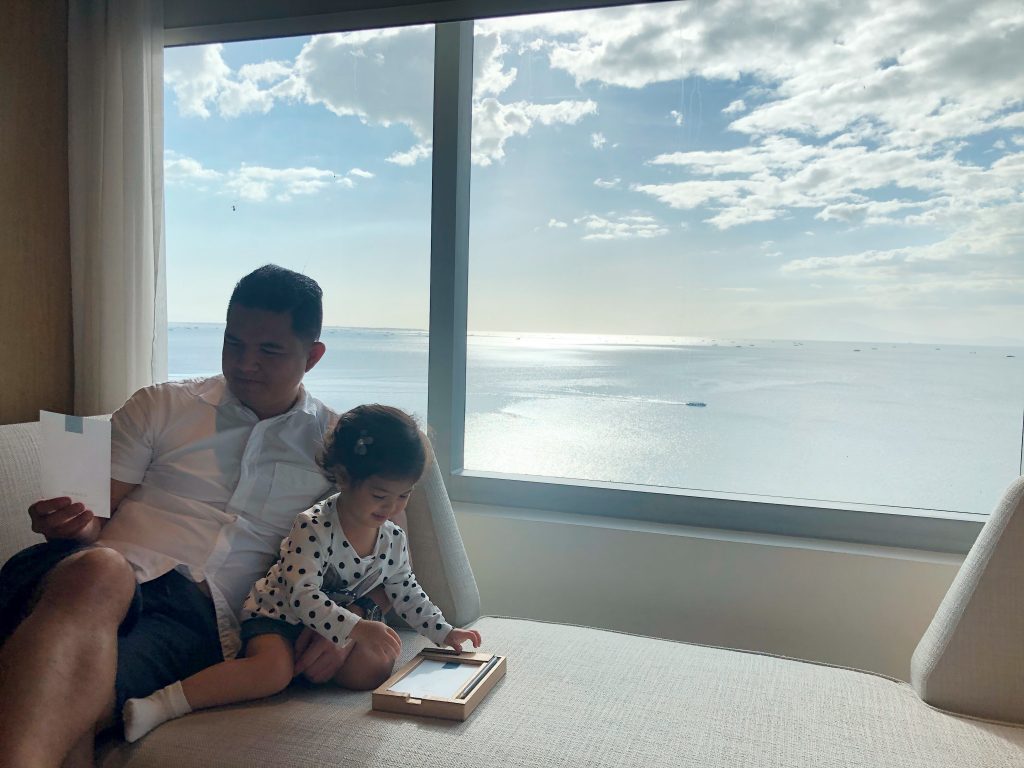 We checked in on a Sunday afternoon and got ourselves a very comfortable, spacious room with the perfect panoramic view of the bay. We took our time and just enjoyed following Alessa's pace. We let her explore and enjoy every corner until she said it was time for a swim.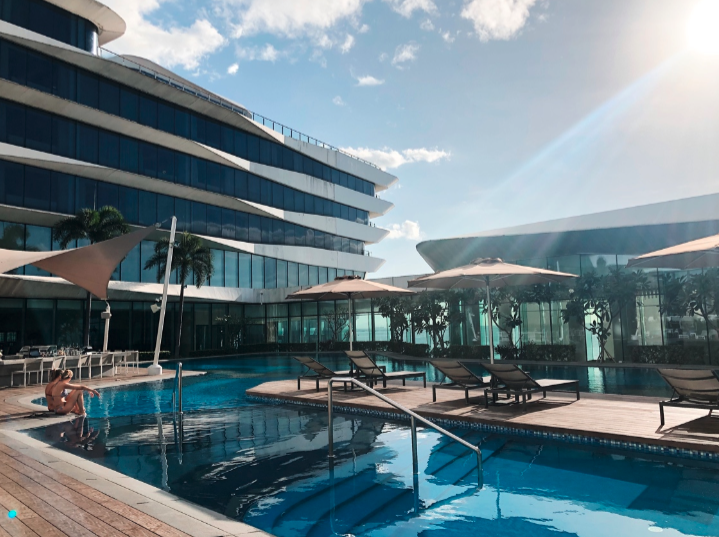 Seeing Alessa shrieking in sheer happiness as she swims in the pool her Daddy Marco and Mamay Inday, while I get some tan taking their photos, ain't too shabby for a staycation. It was a weekend despite we never thought we needed.
And as if the day wasn't perfect enough, the glorious sunset unfolded right in front us, a majestic view by our window I was lucky enough to capture when we got back to our room.
Now all of these seem to be a distant memory and I can't help but feel nostalgic as I type this. It pains me to think that going into new adventures with my family will have to wait…indefinitely. However, I am still looking forward to the day we can travel again. Plan out trips and staycations and make them happen.
Until then, I will keep on reliving each memory by telling Alessa the stories behind all photos and videos I captured.
This was written in May 2020 when Metro Manila and some provinces in the Philippines were under enhanced community quarantine. The hotel we got to spend our last staycation back in February is Conrad Manila which is located on the edge of Manila Bay and within the bustling Mall of Asia Complex. It sits atop S Maison with an expansive view of the bay and the city. The hotel is a few minutes away from the airport and other business districts in the metro.