It's March 8 and you know what that means. International Women's Day!
Here's a day when female social, economic, cultural and political achievements are celebrated and gender equality awareness is raised to push towards a more equal and inclusive world.
To commemorate such a special occasion, here's our list of Bangkok-based ladies in wellness, who have inspired us with their health-forward products and services daily.
Julia Panchkowry
Founder and CEO of The Banana Warrior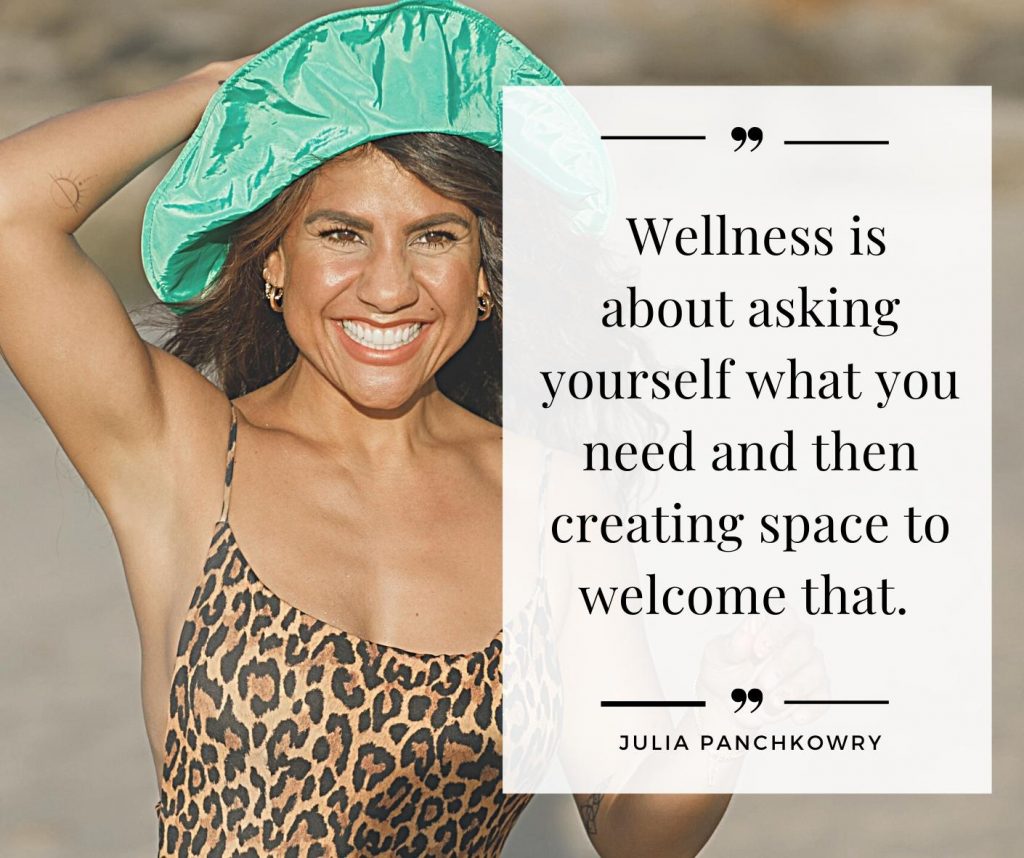 Get to know our wellness shero:
Can you tell our readers a bit about yourself?
Hi, I'm Julia Panchkowry, the founder and CEO of The Banana Warrior and creator of The Banana Warrior Cafe. I have lived in Bangkok for seven years and am proud to be part of the ever-growing wellness scene here. I am passionate about female empowerment, sustainability, fashion and desserts – I love weaving all of these into The Banana Warrior brand!
What does wellness mean to you?
Wellness is multidimensional and experienced by all parts of your being – mind, body and spirit. There are many practices that contribute towards true wellness, which looks different for everyone.
Truly learning how to achieve wellness requires you to tune in deeply and approach yourself with kindness, reflection and honesty – about what works for you and what doesn't. Wellness is about asking yourself what you need and then creating space to welcome that.
My personal wellness comes from waking up early, journaling, meditation, running, yoga, nourishing food, lots of water, dancing, laughing, compassion, kindness, hugging, creating and allowing yourself to get completely lost in the moment sometimes!
Women empowerment quote that always inspires you:
"The only difference between what you want and what you have is what you do."
Women in wellness you look up to:
Lauren Ash. She's the founder of Black Girl In Om, a platform created for women of colour to have a safe space in the wellness industry.
Dr Hazel Wallace, a medical doctor and nutritionist. She's the founder of The Food Medic.
Kate Telge – Kate used to be my personal trainer and she taught me not only how to create power in my body, but also taught me how to create a powerful belief in myself and what I am capable of.
Emelie Erlandsson
Wellness Coach/ Cookbook Author/ Founder of Apotheqi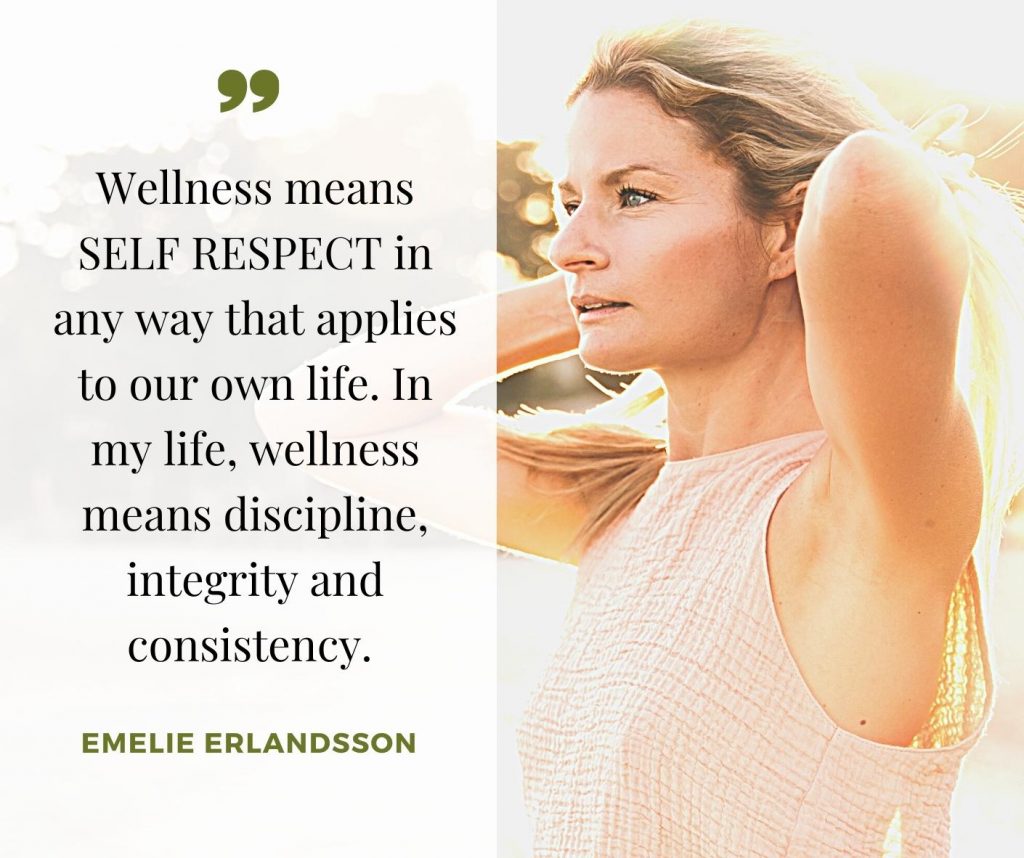 Get to know our wellness shero:
Can you tell our readers a bit about yourself?
I am a wellness coach, Taoist TCM practitioner, educator, public speaker and author. I am also the founder of Apotheqi, a TCM wellness brand. Our focus is on a progressive and modern approach to healing with traditional practices, such as acupuncture, acupressure, cupping and Chinese herbal remedies.
I am also currently developing a wellness platform where parents, teachers and caregivers have the opportunity to profoundly understand the young individuals in their lives. As a mother of 3 kids, I feel like we owe it to them to take care of ourselves so we can show up to our children as well.
I constantly flow in my wellness work. I always see opportunities to transform and heal our collective being from a macro perspective and then implement what I know in my close surroundings and community.
What does wellness mean to you?
Wellness means SELF RESPECT in any way that applies to our own life. In my life, wellness means discipline, integrity and consistency. For me, that is anything from sticking to healthy skincare routines to a fun bubbly night out with friends. Wellness is a tool to keep me in alignment and being in balance.
Women empowerment quote that always inspires you:
I am quoting Cinderella´s mother! [laugh] "Have courage and be kind." I remind myself of this every single day.
Women in wellness who inspire you:
I am always surrounded by them – my friends who are all in wellness! [laugh] My Taoist Master Kru Mae, my business partner – Natasha Gillett, Melanie Giles, Anette Schlemmer, Marika Nanni, Hanna Tjernberg and Mutsumi Adachi. I can honestly say that these women inspire me every day.
Sabina Ahuja
Holistic Therapy Specialist/Energy Healing Teacher/ Founder of DNA Bliss and Journey to Love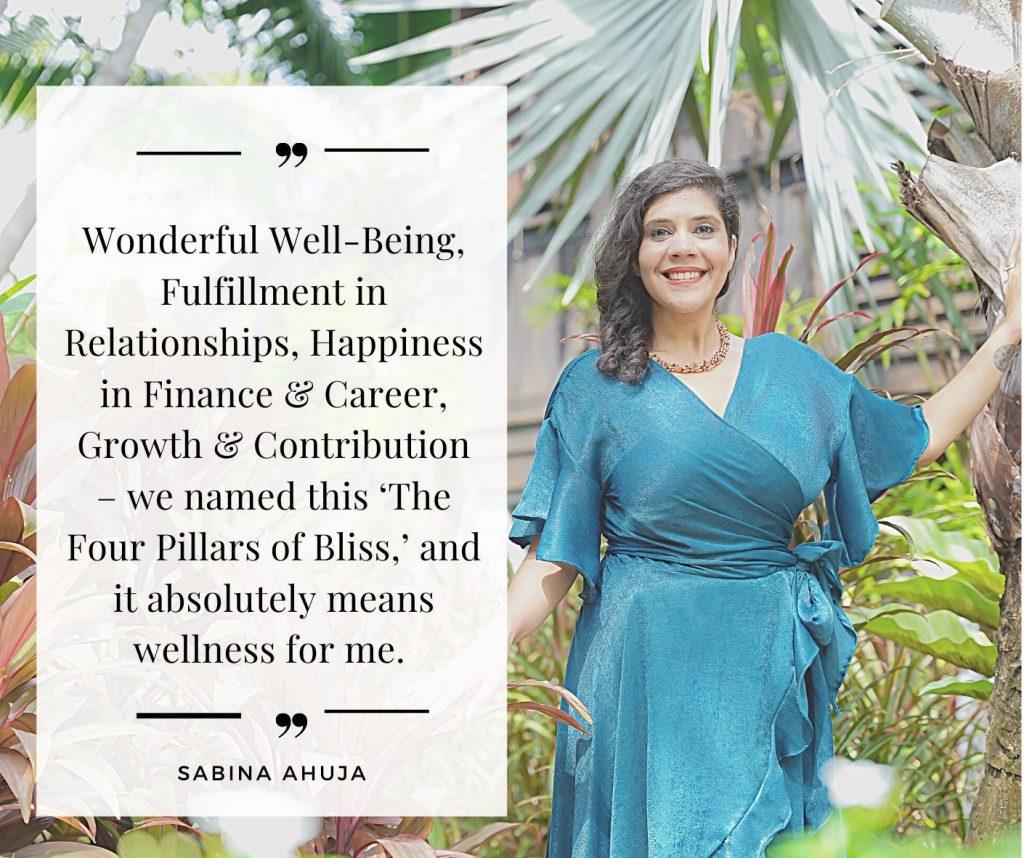 Get to know our wellness shero:
Can you tell our readers a bit about yourself?
I'm a Holistic Therapy Specialist and Energy Healing Teacher with 9 years of experience helping thousands of people to upgrade their well-being, relationships and even mindset around money.
The past few years, I've been very blessed to run multiple online seminars under my brands, DNA Bliss and Journey to Love to help women entrepreneurs build new relationships with themselves, their family and their money – all the essentials! The reason I do what I do is because I have a deeper mission to launch an 'Empowerment School' where we can educate parents and children to be equipped with essential tools to make their home life better, happier and make an abundant living.
I believe happiness absolutely begins at home and relationships are really the main drive to success in all areas. In 2021, the Global Wellness Day organization appointed me to be Global Wellness Day Ambassador of Thailand which is truly an honour.
What does wellness mean to you?
Wellness for me means more than just physical health for sure. Many years ago, my life partner and I were discussing the same thing. Both of us worked with so many clients and we realized that no matter who they are and whatever background they are from, fundamentally we are all longing for something similar.
Wonderful Well-Being, Fulfillment in Relationships, Happiness in Finance & Career, Growth & Contribution – we named this 'The Four Pillars of Bliss,' and it absolutely means wellness for me. When one pillar is weak, it affects the other and so the challenge is to live a very conscious life and create a wellness routine around the four pillars.
Women empowerment quote that always inspires you:
"What I know for sure is that speaking your truth is the most powerful tool we all have." – Oprah Winfrey. This quote touches my soul. As women sometimes we find it hard to share our truth but we need to remember, it is in our truth, in our personal stories that we unlock our superpower.
Women in wellness you look up to:
I look up to Gabrielle Bernstein for making mental health and spirituality so tangible, practical, simple and relatable to millions of people. I read one of her books, 'Super Attractor,' during the lockdown and I recommend this to anyone who wants to learn simple tools for manifestation. I admire her style, her truth and her bad-ass attitude. I just love women who keep it real and she totally does.
Raksha Sachdev
Founder of Bangkok Booch/ Business Development Manager of Masala Magazine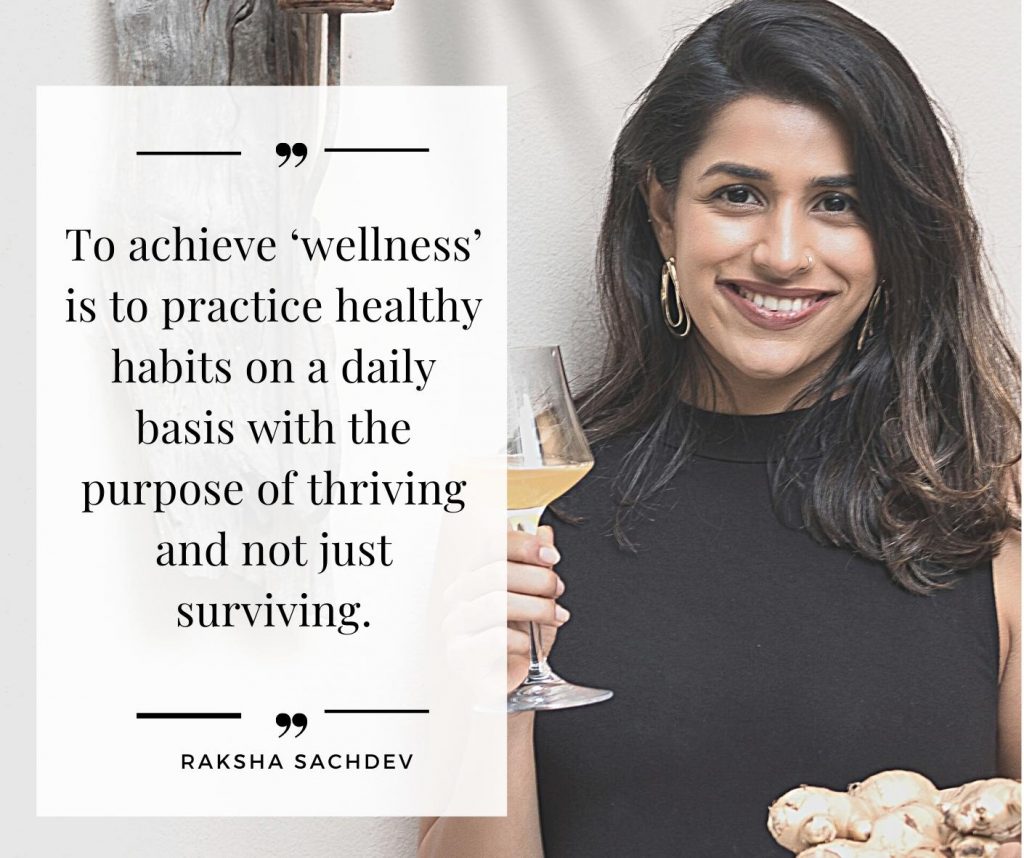 Get to know our wellness shero:
Can you tell our readers a bit about yourself?
Hi, I'm Raksha Sachdev, founder of Bangkok Booch – Bangkok's latest premium craft kombucha brand. Other than operating Bangkok Booch, I am also the Business Development Manager at Masala Magazine – the first and only multi-media platform for the Indian community of half a million people in Thailand and PHS – where we specialize in creating custom corporate gifts and hospitality supplies.
When the pandemic started, I, like many others, tried my hand at baking, making bread and Marie-Kondo-ing my entire house – all without much success. Fortunately, I found that I was pretty good at one thing and that was brewing kombucha.
My love for kombucha all started when I was living in Vancouver, Canada and discovered this incredible drink that made my mind and body feel so at ease that it naturally became part of my routine. When moving back to Thailand, I found that none of the kombuchas in Bangkok really utilized the beautiful and tropical fruits and flavours of Thailand, so I started making my own using my favourite fruits, like mango and pineapple. I eventually made too much and sent some bottles to my friends and family, who all encouraged me to start selling and thus Bangkok Booch was established in July 2020.
When not brewing kombucha, you can often find me at the park with my dog, Rocco, who is also featured on the brand or hanging out with friends and family.
What does wellness mean to you?
Wellness used to mean just being physically fit, but I've realized now more than ever that wellness means being physically, emotionally, mentally and spiritually healthy. To achieve 'wellness' is to practice healthy habits on a daily basis with the purpose of thriving and not just surviving.
Women empowerment quote that always inspires you:
"You can't knock a woman off a pedestal she built herself."
Women in wellness you look up to:
Radhi Devlukia – She is most well known as the wife of "Think like a Monk" author Jay Shetty. I admire her for being so effortlessly true to herself, always helping others silence their negative voices, showcasing how to live life more consciously and not hiding behind her famous husband. I love following her on social media for her pure love of food, ayurvedic teachings and positivity. She just launched her own line of herbal teas as well, called Sama Tea.
Pinyaluck "Fergie" Dhamma
Nutritionist/ Wellness Consultant/ Founder of Healthy Soul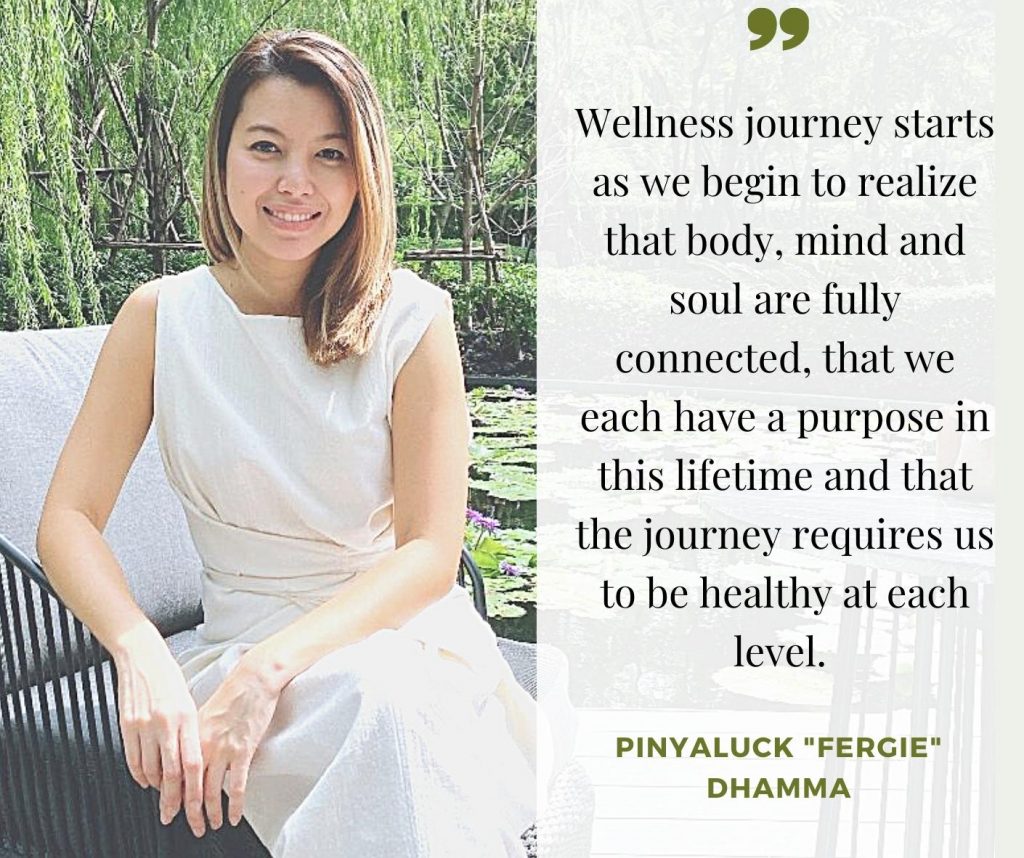 Get to know our wellness shero:
Can you tell our readers a bit about yourself?
Hi, my name is Fergie. I'm a certified nutritionist and wellness consultant, a yoga instructor, sound healer, reiki & crystal practitioner, and a proud founder of Healthy Soul.
I am passionate about holistic wellness through balancing one's mind, body and soul. I truly believe that in order to be healthy and live happily, we must have this balance. I'd worked in sales and marketing in the hospitality industry with many luxury brands for over ten years until there was a call from the universe to start a new journey. I knew it was time to let go of the old and embrace new challenges. It was time for me to help myself and others.
What does wellness mean to you?
Wellness journey starts as we begin to realize that body, mind and soul are fully connected, that we each have a purpose in this lifetime and that the journey requires us to be healthy at each level.
Women empowerment quote that always inspires you:
"Whatever you fear has no power – it is your fear that has the power." — Oprah Winfrey.
Women in wellness you look up to:
Oprah Winfrey, Juliana Semenova and Sahara Rose.