In the past few years, the coffee excitement has come from cities such as Melbourne, Copenhagen, Seattle or Taipei. These cities renowned for their top-notch brews and innovative coffee-centric concepts could easily make the so Parisian "café crème" – an espresso served with a dash of cream or milk – look very old-school. But that would be forgetting that there is nothing more Parisian than sitting at terrace of a café for a coffee-sipping and people-watching break. Let's also remember than two Saint-Germain-des-Prés' cafés – Café de Flore and Les Deux Magots – where once the epicentre of Paris cultural and intellectual life. So yes, oat milk cappuccino and latte macchiato might be off the menu but there are still plenty of opportunities to enjoy a coffee break in Paris. And if you happen to visit one of the quintessential Paris cafés mentioned below, remember to make good use of this magic sentence: "garçon un café s'il vous plaît".
Disclaimer: dipping a buttery croissant in a smoking hot café is totally acceptable and actually very Parisian indeed.
Madame Rêve Café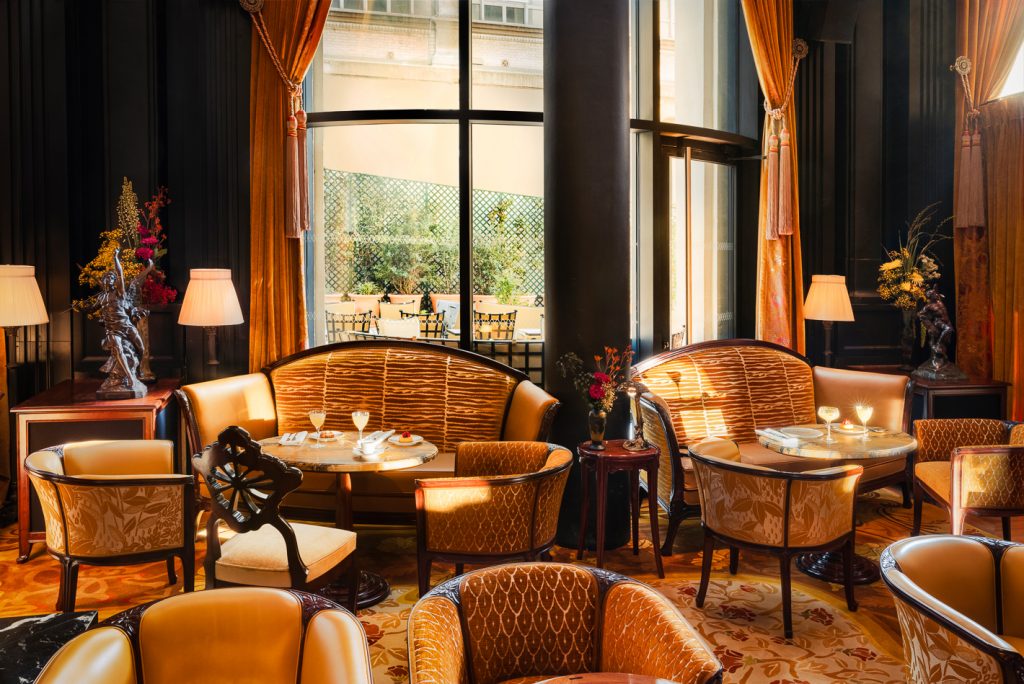 Photo credit: Hôtel Madame Rêve
Cour Gutenberg, 75001 Paris
At the very heart of Paris 1st arrondissement, is a 1886 building that Parisians have long known as the Louvre Post office – the largest post office in France. Recently converted into the five-star Madame Rêve hotel, the Belle Epoque edifice invites you to unwind in a historical setting at the ground-floor café. The place has been brilliantly renovated to create a modern yet elegantly outdated atmosphere. Cue high ceilings (8 meters), monumental chandeliers, marble and precious woods. Breakfast is served from 8 am. Madame Rêve Café is already a spot of choice for fashion journalists, politics and influencers alike. If you love your coffee with a touch of sweets, there's a mouth-watering selection of treats crafted by celebrity French pastry chef Pierre Hermé. The sunny terrace is also worth mentioning as we already know it's gonna be a hot spot when spring returns.
Café Lapérouse
2 Place de la Concorde, 75008 Paris
Set in the heritage setting of the newly reopened Hôtel de la Marine, an 18th century cultural landmark sitting on the historic Place de la Concorde, Café Lapérouse is the very first outpost of the historic Lapérouse restaurant. Two sumptuous lounges decorated by Cordelia de Castellane, who is also the artistic director of Dior Maison, and two terrasses welcome you from 8 am every day. Breakfast is served until 11 am if you fancy some fresh bread with your coffee. We also recommend you to stop by in the afternoon to experience the so French "goûter" experience, an afternoon snack elevated with homemade pastries such as eclairs.
Rose Bakery at Musée de la Vie Romantique
16 rue Chaptal, 75009 Paris
As suggested by its location, in the charming garden and greenhouse of the Museum of Romantic Life, this Anglo-French café is as picturesque as it gets. Cue delicious cakes, muffins and scones served in a décor of celadon-hued wrought iron tables and chairs, abundant greenery and romantic roses. If you're looking for a peaceful place to enjoy a cuppa tea or coffee after spending the day wandering the streets of Paris, you've come to the right place.
Café Mulot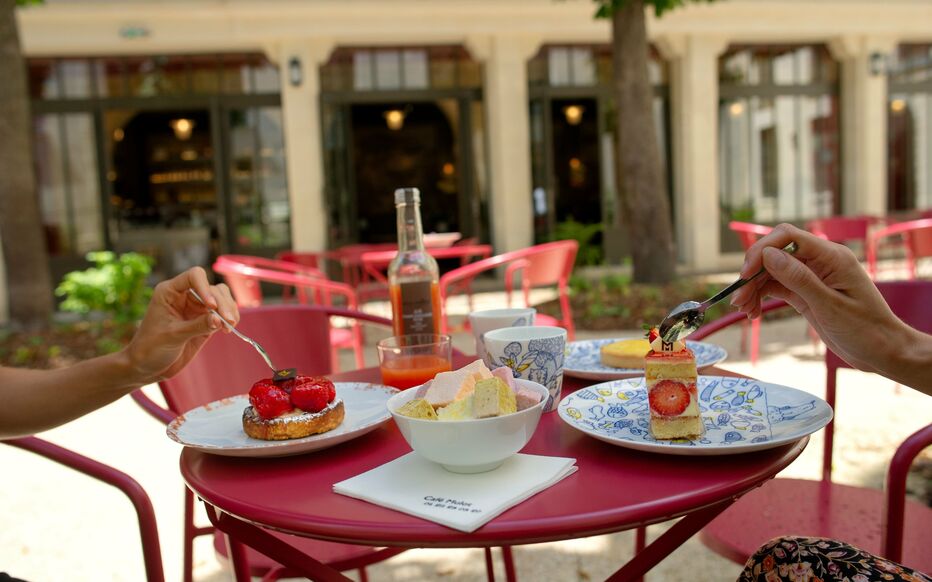 Photo credit: Café Mulot
Maison de Victor Hugo, 6 Place des Vosges, 75004 Paris
Follow in the footsteps of one of France's greatest writers of all time as you visit what was once his home on the picturesque Place des Vosges. Victor Hugo's novels are famous – think Les Misérables or The Hunchback of Notre-Dame – but so was his appetite and it seems only fitting that the café opened its doors in his home, which is now converted into a museum. Café Mulot is operated by Fabien-Rouillard, pastry chef-owner of Maison Mulot, and is the perfect secret place where to enjoy a coffee break with a homemade lemon pie. We're already longing for the return of sunny days so that we can sit on the terrace and take in the atmosphere of Place des Vosges: the sound of water dripping from the fountain, of wind dancing in the trees and of children playing.
Carette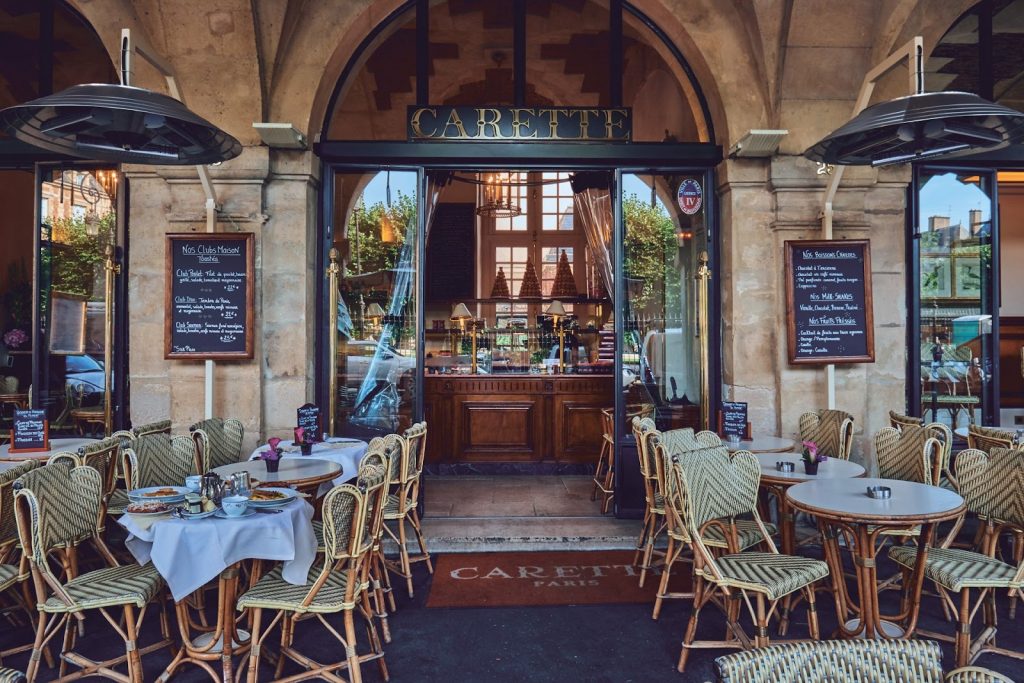 Photo credit: Carette Paris
25 Place des Vosges, 75003 Paris
There are three different Carette cafés in Paris but our favourite one has to be the one in Place des Vosges with its outdoor tables set up under the vaulted arcades of the oldest square in Paris. The interior décor, created by iconic fashion designer Hubert de Givenchy's nephew, is equally picturesque. Carette is a popular place to get macarons and we recommend giving a go to the classic salted caramel one or to opt for one of the seasonal flavours. Other signature sweet treats available include the Paris Carette, a revisited Paris-Brest, and the Mont Blanc with meringue, whipped cream and walnut cream, best paired with decadent hot chocolate in winter. It's also a great spot for a light lunch.
Rivié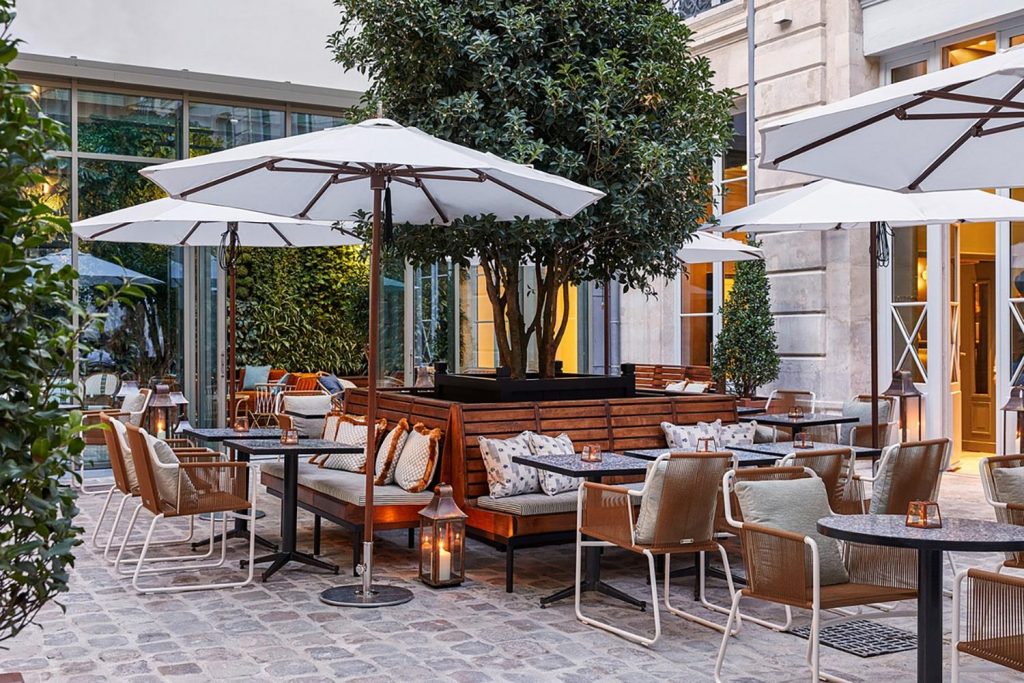 Photo credit: Rivié – The Hoxton, Paris
30-32 rue du Sentier, 75002 Paris
Located on the ground floor of The Hoxton Hotel, at the very heart of "Le Sentier" neighbourhood, Rivié welcomes you from 7 am until 11 pm. Breakfast at Rivié is a serious London-style affair during which flat white, matcha latte and chai latte are served alongside Benedict eggs, chocolate granola and avocado toast. We think the coffee is best enjoyed in the courtyard where entrepreneurs, fashionistas and young creative people like to mingle and co-work. It might not be the frenchiest address on this list but it's worth the visit if you're craving barista-style coffee with a side of people-watching.
Le Nemours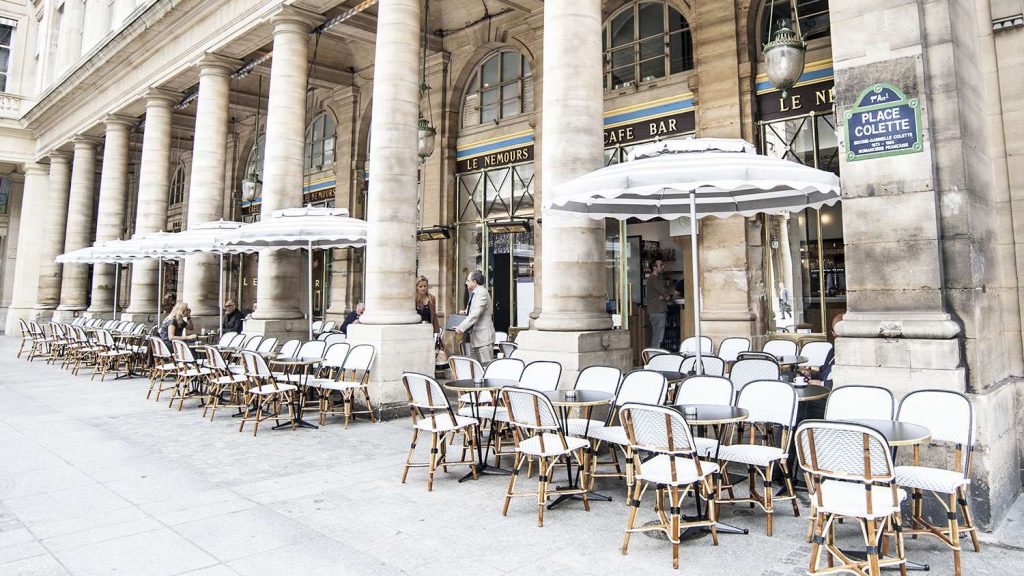 Photo credit: Le Nemours
2-7 Galerie de Nemours, 2 Place Colette, 75001 Paris
Few cafés in Paris can boast such a terrace as Le Nemours. Located under the roman columns of Place Colette, named after the writer of the same name, just a few steps away from the very Parisian Palais-Royal Garden and the Comédie-Française – the oldest active theatre company in the world, it's a prime spot if you're into people-watching. Cue picture-perfect wicker-chairs, small round tables, French breakfasts, croque-monsieur and more. On a cold winter day, we recommend ordering the cheeky hot chocolate with Cointreau to keep you warm.