Anyone from Bruges or who has been there for a lengthier duration will argue one day wouldn't be enough, to take the dreamlike city in, see and experience every corner and appreciate its kind citizens. However, I will try to squeeze some of my favorite sights in this article. I visited Bruges in October 2021 and had one of my most "chillaxing" periods in a while.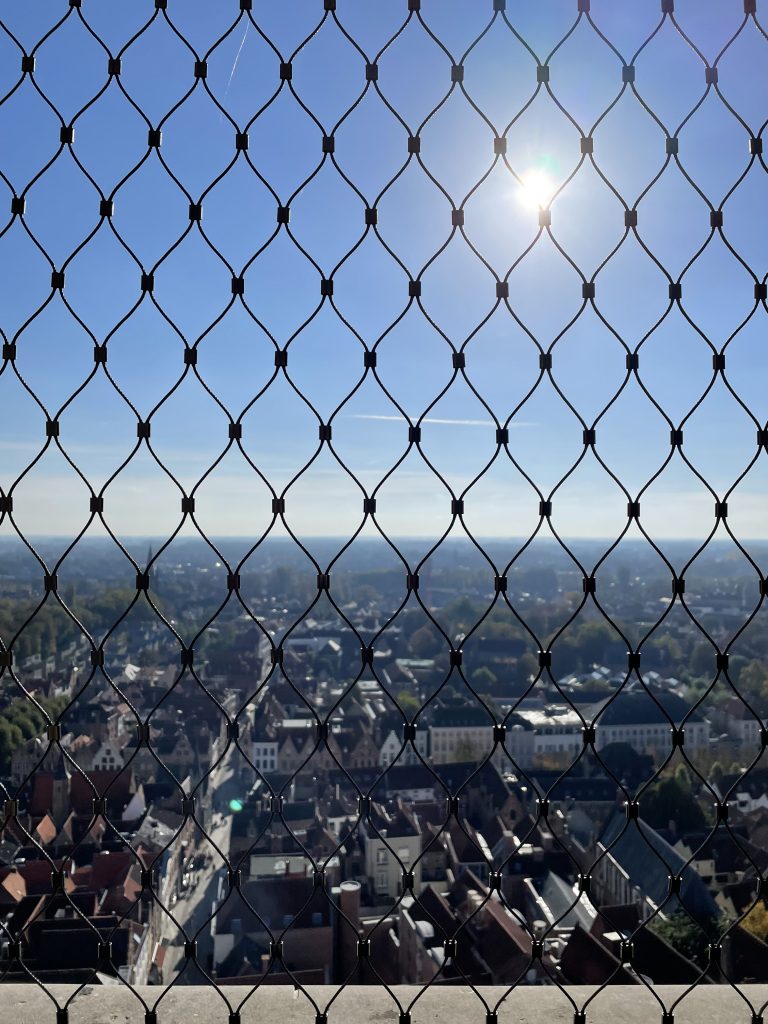 1. Belfry
It wouldn't be a proper journey unless you go atop a city's signature vantage point. If Paris has Eiffel and Tokyo has Tokyo Tower, Bruges has Belfry, a medieval bell tower in the center of the city making it one of the city's most prominent symbols. The multiple floors of the bell's inner workings can be experienced as you make your vertical way up 366 steps. With 360-degree views behind a coop fence, you can enjoy overlooking the city and the curious tourist underneath you at the Markt, center square of Bruges. The visit takes about 30-45 minutes depending on how fast you can climb up and down the stairs. They are quite narrow so there can be traffic jams in quite a constrained space. There are plenty of stops to take a breather and greet your fellow bell climbers!
2. Get Lost In The Picturesque Streets That Jump Out Of A Romantic Movie
An exuberant mix of history and artistic expression, one cannot get enough of just staring at the narrow alleys and still waterways of Bruges. The overpowering sensation of spiritual awakening and cleansing follows you around every corner. It's one of the most enjoyable places in the world to get lost while searching for the city's top hot chocolate place, or an eclectic marzipan shop. Each street in the heart of Bruge lays alongside the beautiful mesh of canals, cobbled streets, and medieval buildings. Visitors crowd the streets regularly from 9 am to 4 pm, so if you want to enjoy the peace and calm, I suggest an early stroll before breakfast or a late one around dinner time when everyone has already sat down for an early dinner. I can only imagine how the city will be around Christmas and New Years' time. Most hotels have already been booked up months in advance.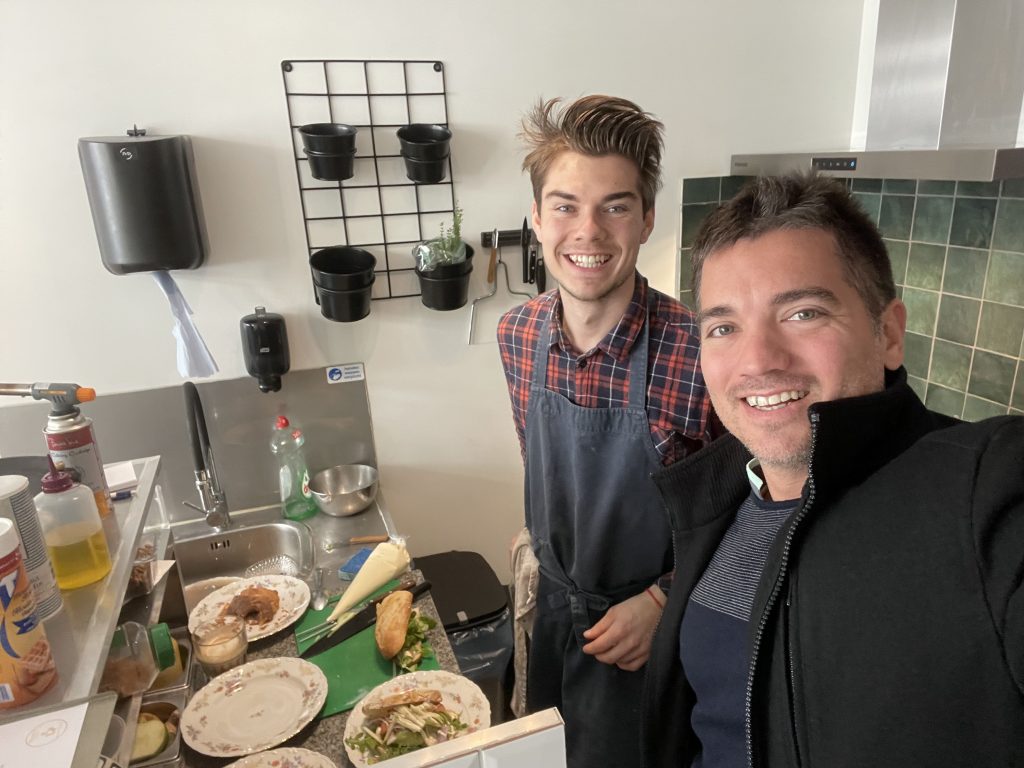 3. Have Breakfast/Brunch/Lunch Or Just A "Bite" At Noah's Broodhuys
The weekend gets busy in Bruges. Most breakfast places even take reservations. I got lucky this time and walked into Noah's Broodhuys (Breadhouse). The cheery employee greeted me and took my order after a few other tables ahead of me. Poor guy was tending all the tables, taking orders, and even at the register taking payments from the takeaway guests. The malted smell of freshly baked bread pressured me to stay on and order a chicken curry open toast with a fresh brew.
As I waited for my order, the one-man army was also preparing the orders that were coming out of the kitchen and serving each table. It took me a total duration of devouring a curry open toast to realize I was watching the man himself, Noah, running the entire shop on his own! What a passion! This explained the positivity and the energy oozing out of him from taking orders and cooking the food to talking about how the new year's procession this year will be flowing through his street which has already got him occupied devising a plan for the rush of patrons that will be coming through the shop. Keep it up, Noah!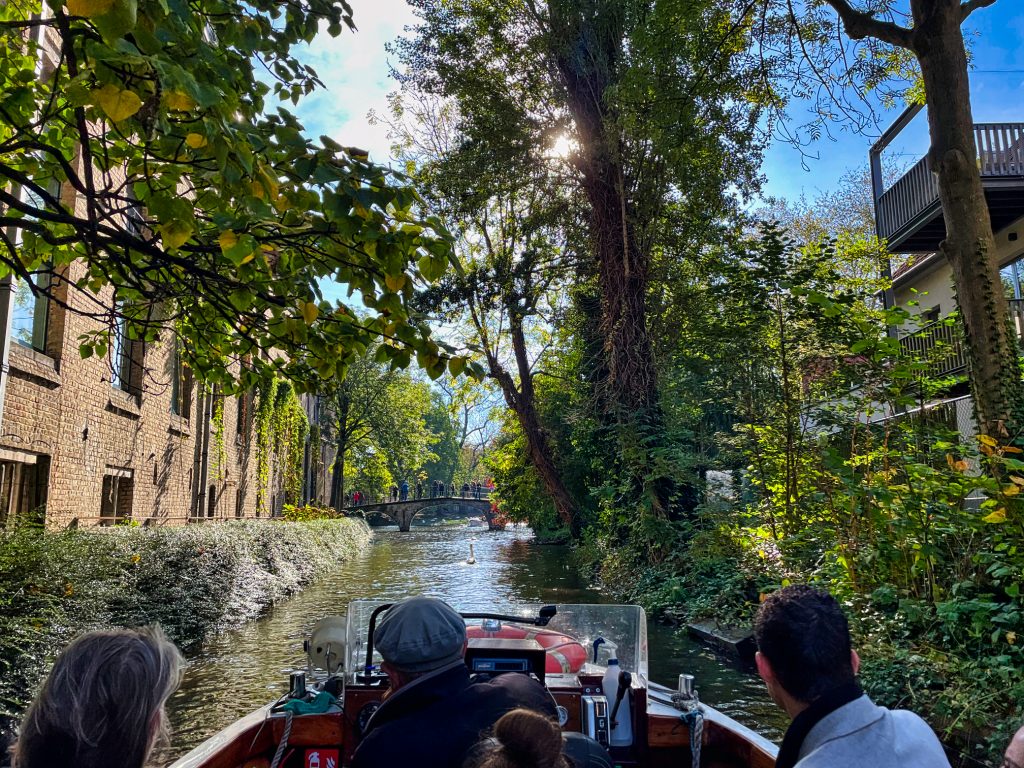 4. River Tour
Bruges is often called the "Venice of the North". It's not hard to relate once you step inside the historic Bruges and be greeted by the network of canals. Bruges originated on the banks of Rhine River and over time, the town had gradually developed and kept connected through canals to the North Sea. 12 km in length, the canal connects the historic buildings, streets, and bridges in a Zen-like stillness. You can take a 30–45-minute canal tour from several street corners intersecting the streets. While the advertised time for "waiting" can be around 10 minutes, it can take up to 30 minutes on busy days. So grab your coat and hot chocolate, 'cause this might take a while. The skinny long boat skippers are known for their at-times cringy and politically incorrect humor, which takes a lighthearted shot at their European neighbors. I would highly recommend the canal tour especially if you are not a favorite of long walks over the cobblestones. This is a great way to get around while getting to know the story of the city but without the bore, thanks to the jokes sprinkled around by the happy-go-lucky gondolier.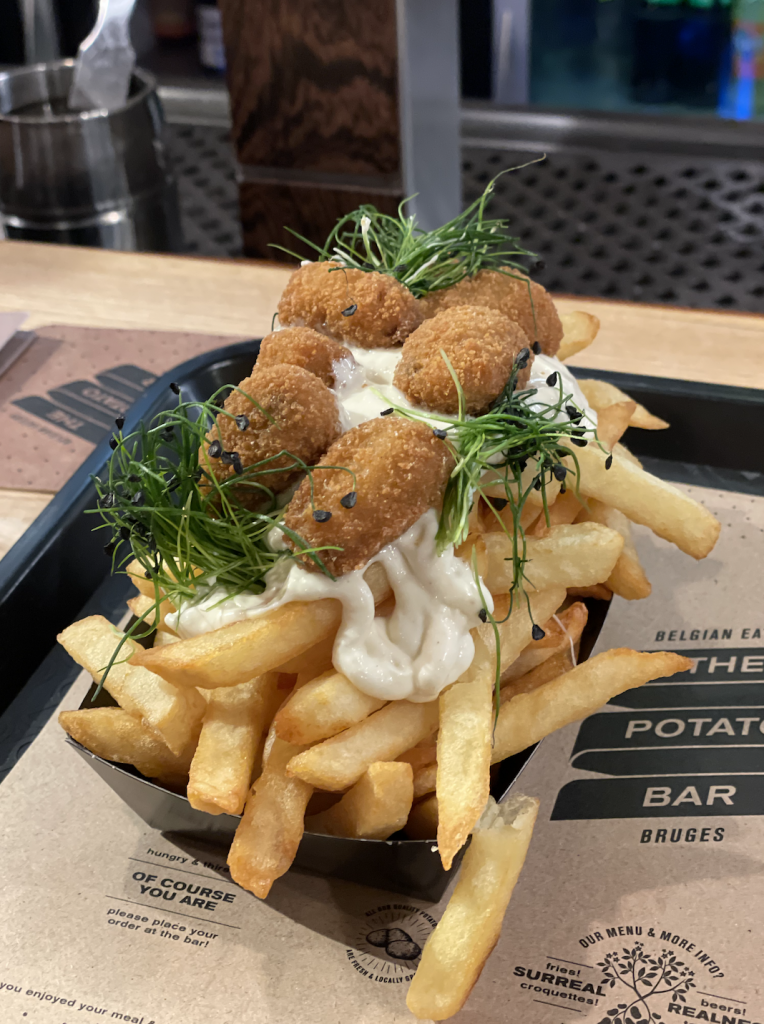 5. The Potato Bar!
You've got to try the food when the country you are visiting is named after it: Belgian Frites. The difference from regular fries of the west is that they're traditionally fried twice in ox or beef fat, and more commonly double fried in lard or oil. Most say this makes the fries crunchier and less soggy.
The potato bar is a favorite among both the locals and tourists. You can select from small, medium, and large fries and add-on toppings ranging from Old Bruges Squirt to Sunny-Side-Up Effs. I chose to have the delicious "Mussels from Brussels" to be my dinner while sitting at the bar next to the open kitchen watching owners fry and prepare various toppings. Pair it up with a cold local craft beer, and you have a feast. The menu also includes homemade croquettes and burgers. They have a takeaway service too, so you can enjoy your frites while walking around town.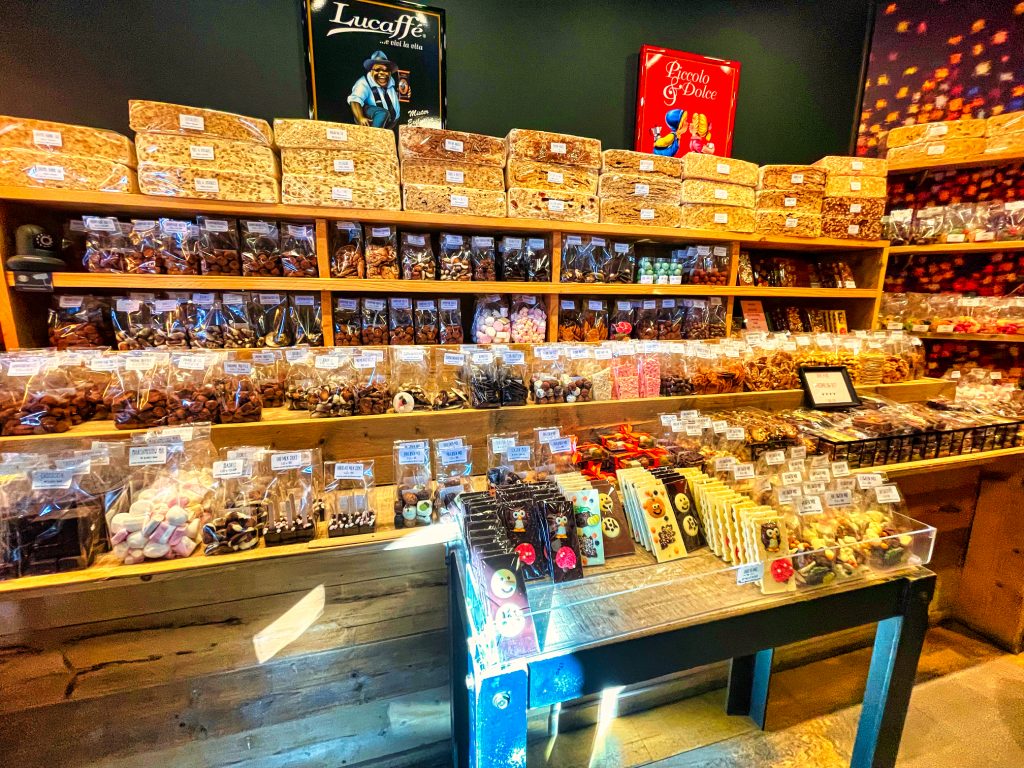 6. Willy Wonka Must Be From Bruges
A true chocolate city, Bruges has a sweet shoppe on every corner. You can indulge in a dozen different types of hot chocolate, waffles, and marzipan bars. I had a mid-evening hot chocolate craving that saw me dive into "The Old Chocolate House". You can select milk and bitter chocolate with different % of milk to mix with your warm milk and make your hot chocolate.
Chocolate and hand-cut marzipan would make a perfect gift for the folks back home if you are in the mood for some shopping. The shops are colorful and a feast for the eyes.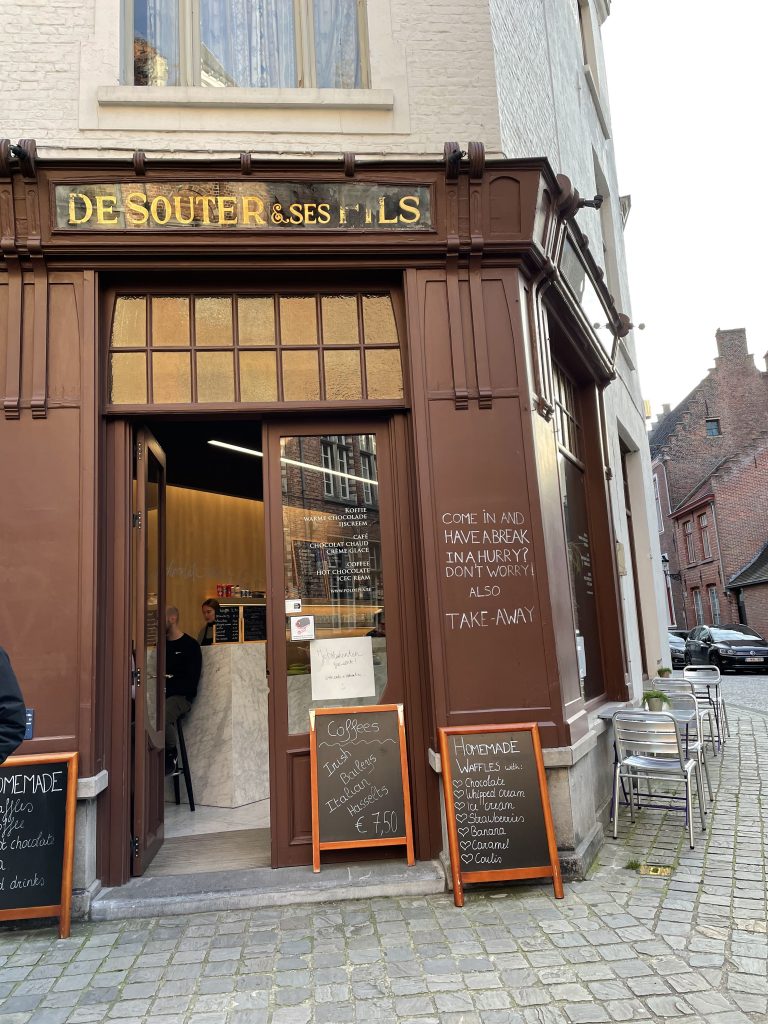 Another chocolaty experience you can try, especially if you are a coffee addict like myself, is Chocolatier Depla. A chocolatier by trade, the shop has several chocolate-coffee variations. The small shop serves as a chocolate shop with tables inside and outside for a quick break before you move on to your next attraction.
7. Drink Or Dance The Night Away
If you still have some gas left in you, you can find plenty of night dwellings and enjoy the famous Belgian beers the city has to offer. There are several "speakeasy" type underground beer taverns. The most famous is 't Poatersgat, a bar in the basement of what looks like an old church. Arched ceilings supported by thick stone columns give a "Basilica Cistern" feeling.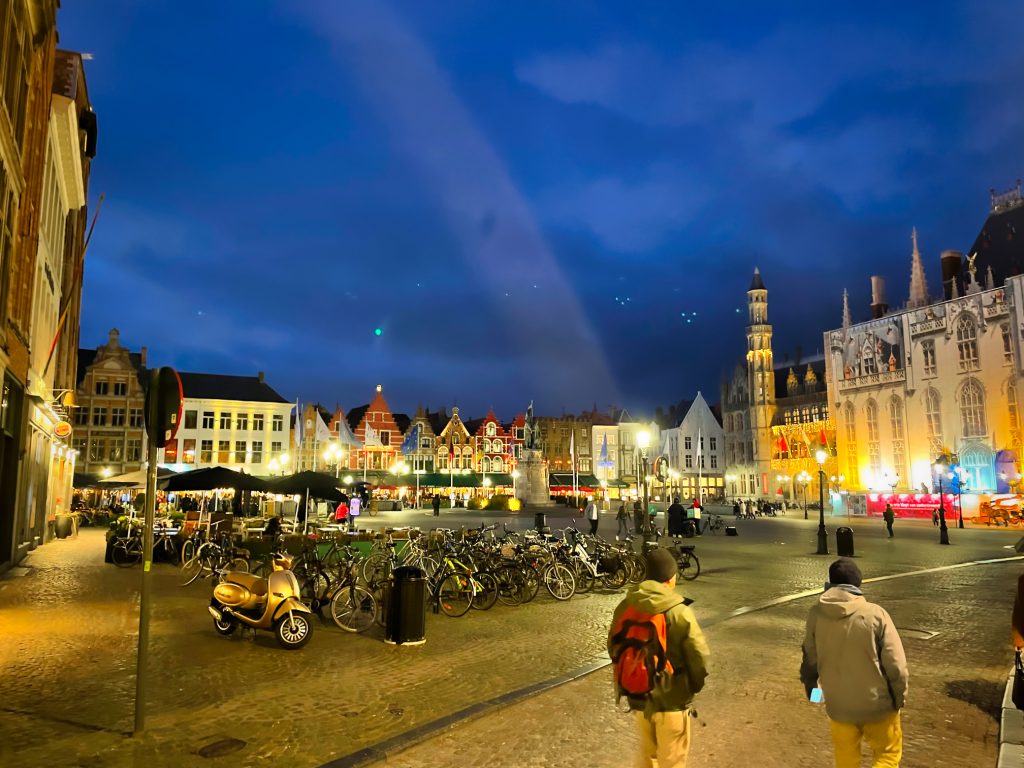 Kuipersstraat area is quite the happening place once the night falls. There are a number of bars with outside seating areas. If you are feeling extra adventurous, you can just climb a couple of more streets over and party the night away at De Coulissen Brugge nightclub. It can get packed, but the music may be worth it.
I hope this article can help you with creating memorable moments when "In Bruges". Or just visit Bruges as it's meant to be… by getting lost in the history and travée bourgeois architecture!