Few places are able to match the combination of drama, mystery and history that caves have. They have been important to humans for millennia, offering our ancestors protection from predators and the elements, while also being places where they could create some of their first drawings. It makes sense to imagine that having a meal in one would fulfil something primal in humans. These five restaurants offer exactly that and are definitely on our #RadarList.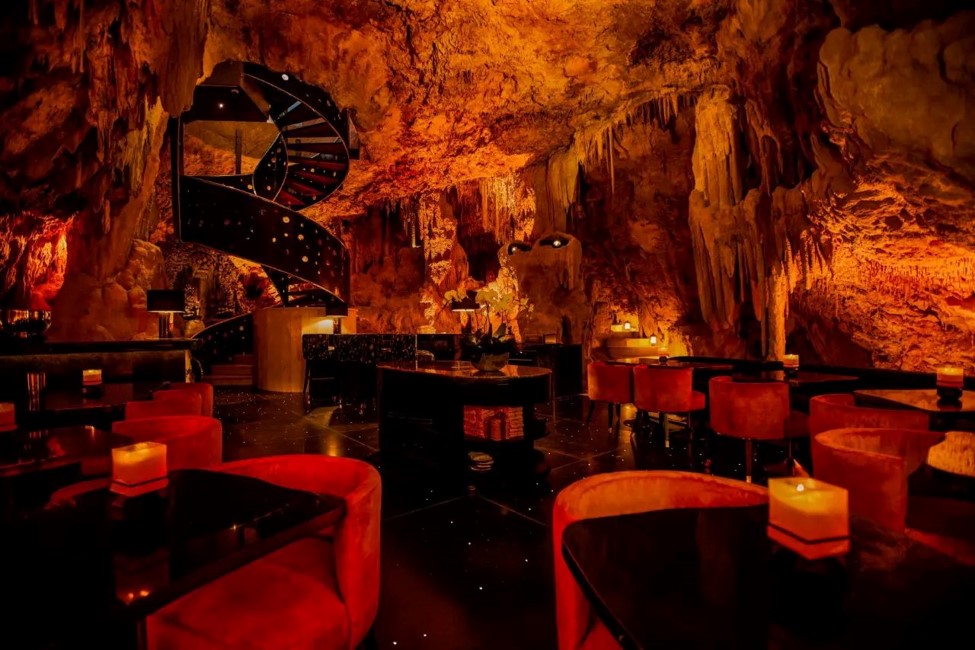 The Cave by Chef Ryan Clift
When in Bali, check out this culinary hideaway inside a 25,000-year-old underground cave located within The edge Bali. The intimate, 22-seat space swims in warm golden light that accentuates the grandness of the cave and its magnificent, rough features. The kitchen is under the watchful eyes of Chef Ryan Clift, who boasts experiences working as a head chef at Shannon Bennett's critically acclaimed restaurant, Vue de Monde, and as a chef/owner of Tippling Club in Singapore.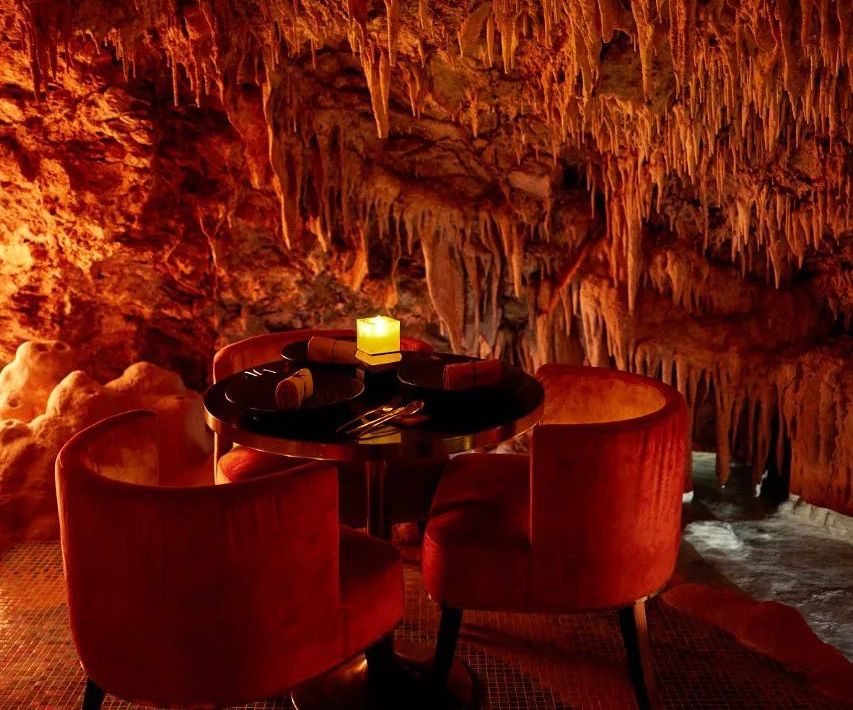 At The Cave, guests have the options of seven- and ten-course menus, which showcase modern gastronomy, with wine and cocktail pairing options. Between courses, diners will be kept entertained by the 3D projection shows on the stonewalls, telling the rich history of the cave.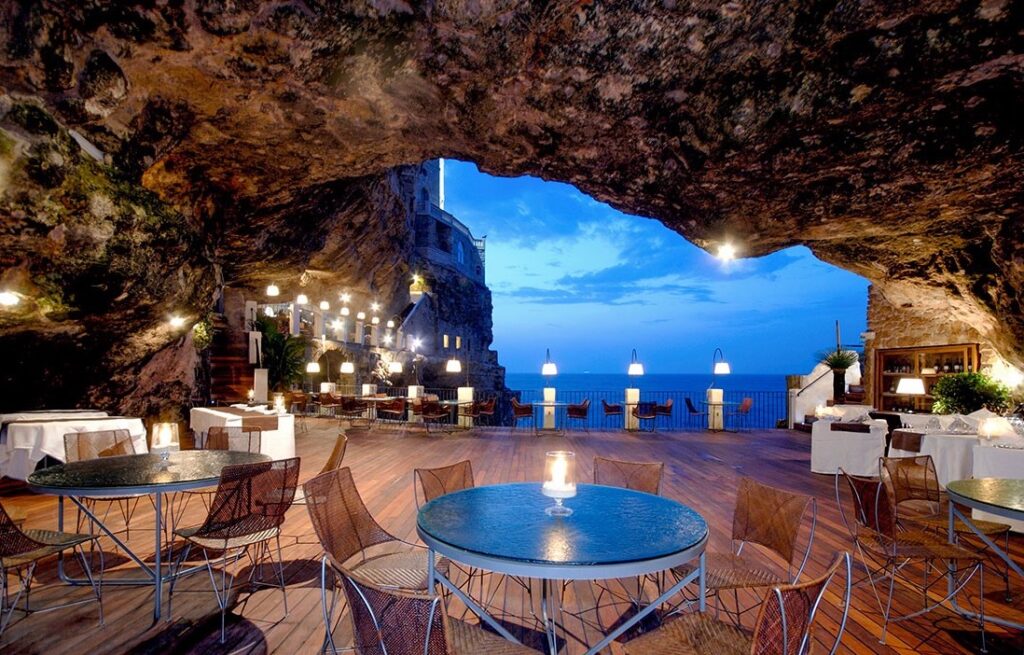 Grotta Palazzese
Located in the historical centre of Polignano a Mare (a town on Italy's southern Adriatic coast), the Grotta Palazzese Hotel's restaurant is set in a giant natural cave, with its vast entrance overlooking the deep-blue water of the Adriatic Sea.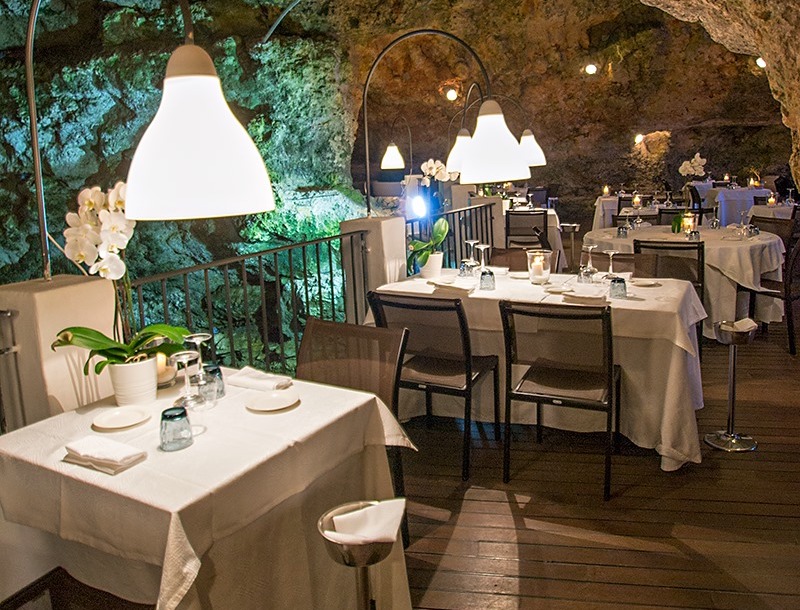 Inside, the white tablecloth dining cave is accentuated with warm lighting, soft-lit candles and wood-accented furniture, creating a more intimate and cosy, yet elegant dining experience. The restaurant is open for both lunch and dinner. Reservations must be made on-site, by accessing a reservation area.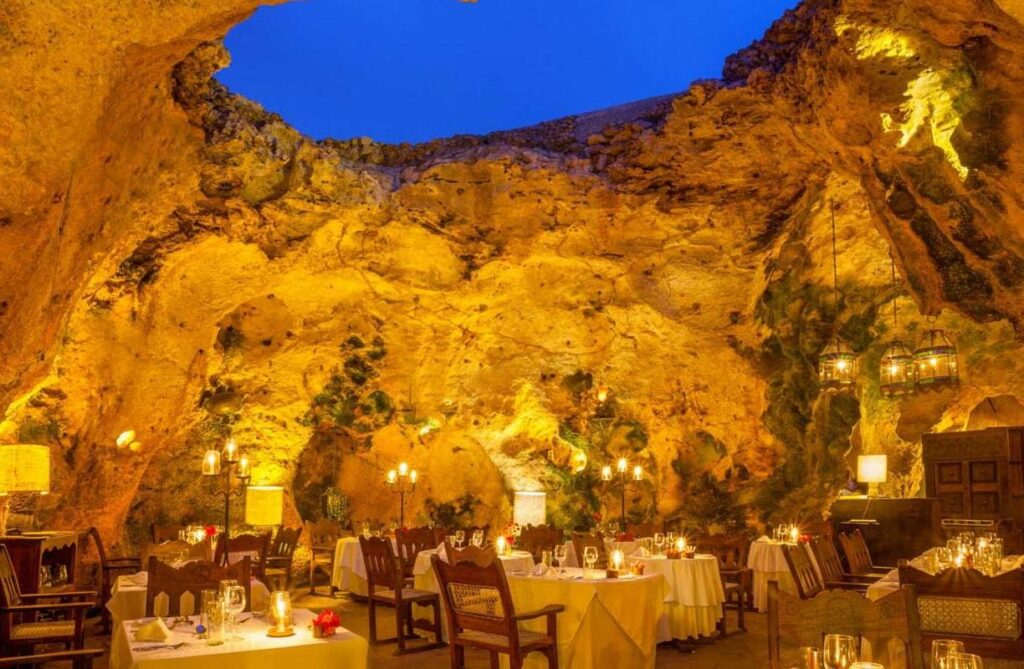 Ali Barbour's Cave Restaurant
A truly unique spot, Ali Barbours Cave Restaurant is nestled inside a cave that is believed to be between 120,000 and 180,000 years old. Comprised of a series of interlocking chambers, the cave is kept as it was discovered, with only a few halls slightly transformed to house dining areas and a kitchen.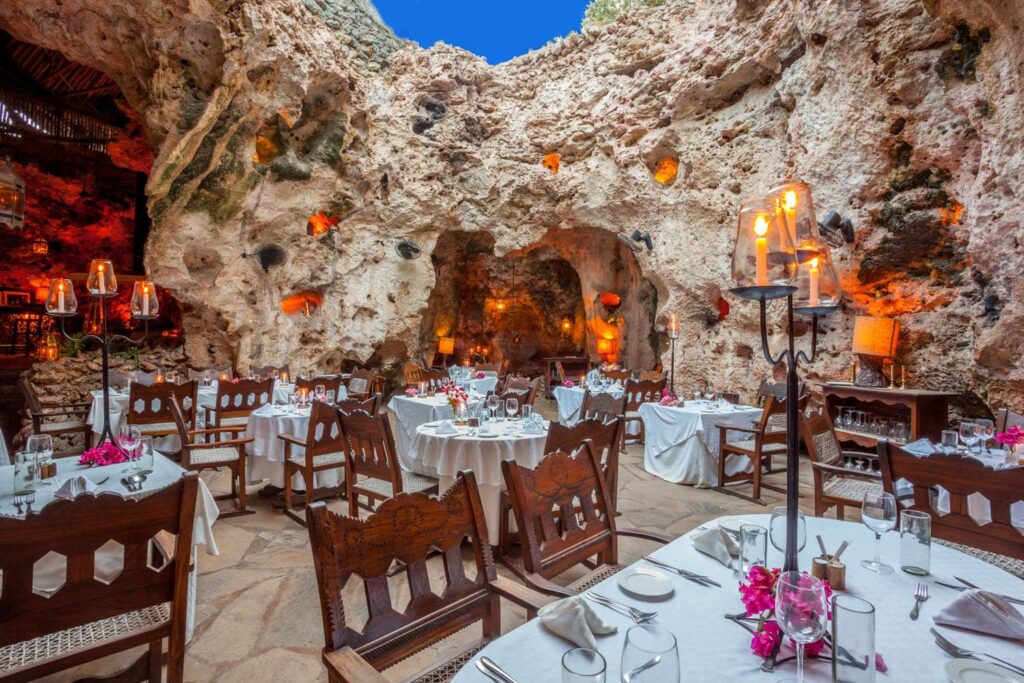 When evening comes, the restaurant gleams with golden hues with the help of candles and dimly lit lanterns adorned throughout the space. On a good weather day, diners can expect to spot glittering stars from their dining table, thanks to the large natural holes in the cave's ceiling looking towards the sky.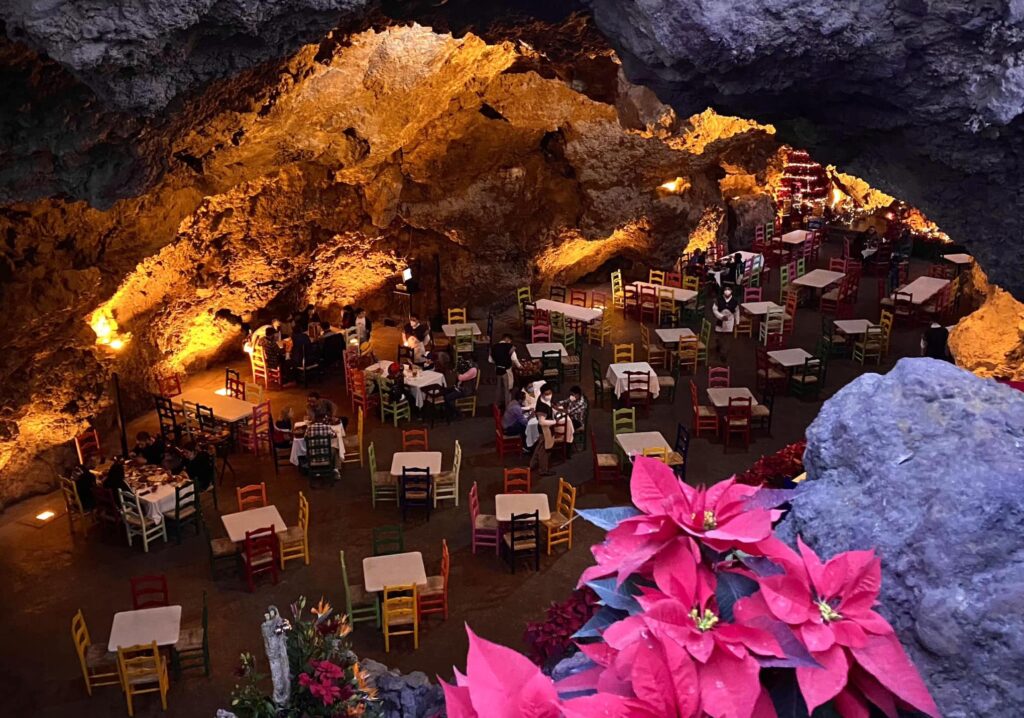 La Gruta
Found just a short distance away from Teotihuacan, a vast Mexican archaeological site located in the northeast of Mexico City, La Gruta is an underground restaurant located inside a volcanic cave. Opened in 1906, the restaurant serves up traditional fare that is drawn from pre-Hispanic culinary heritage.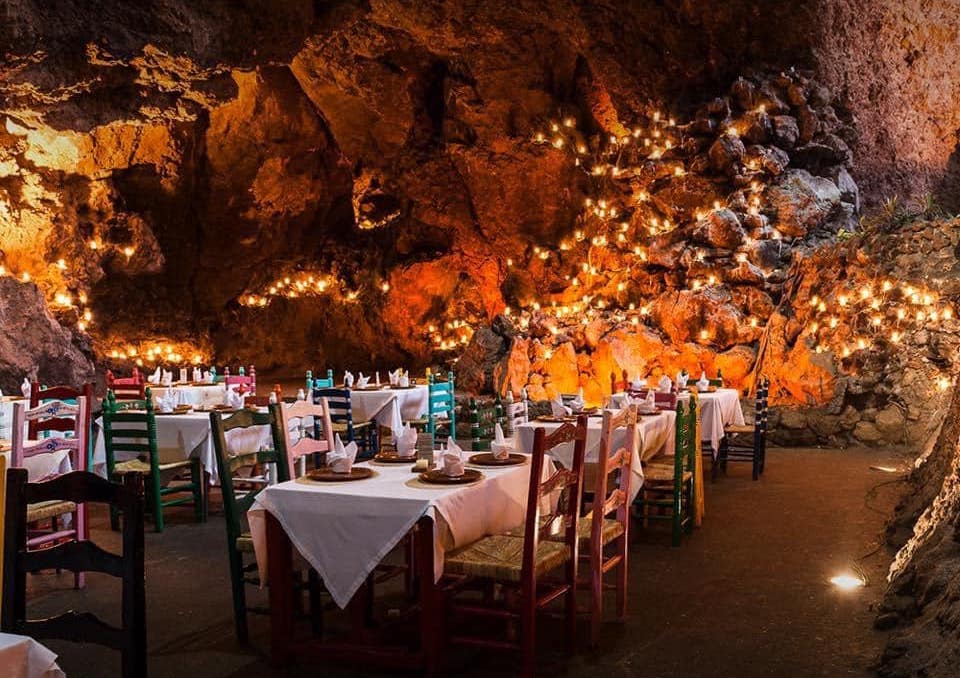 As you enter the cave, you'll be greeted with a fun, eclectic vibe thanks to the vibrant interior space neatly adorned with colourful furniture, multi-coloured lights and candles. Great news for parents planning to visit the restaurant, there's also a children's play area in the cave!
Note: the restaurant is very well received, so reservations are highly recommended.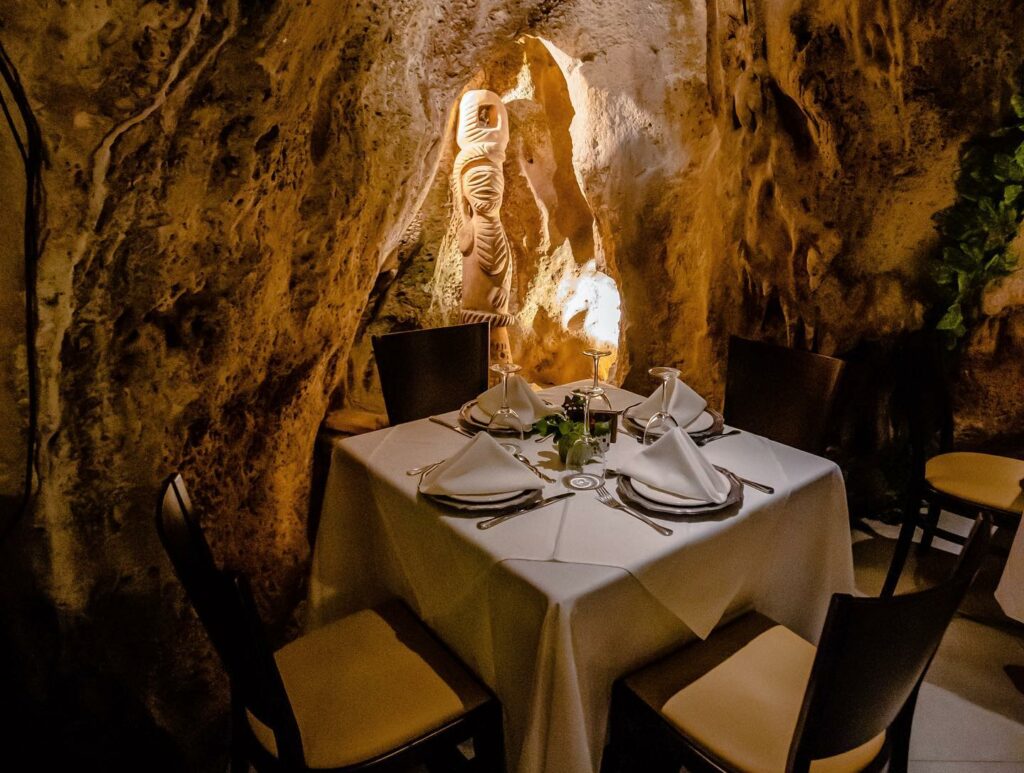 El Mesón de la Cava
Opened its doors in 1967, El Mesón de la Cava is nestled inside a natural limestone cave, created millions of years ago by waves across the coastal cliffs of the Dominican Republic.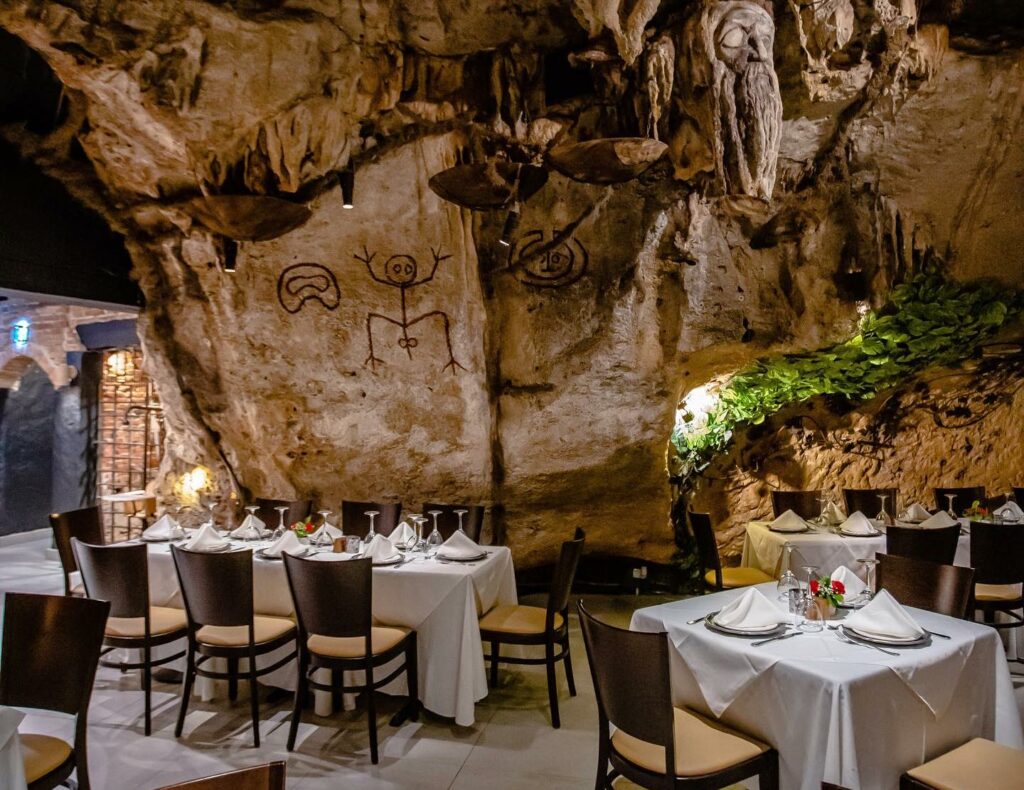 Diners will have to descend a 12-meter spiral staircase through an entry carved into the cliff and walk through ancient fig trees to get to the restaurant. There, you can tuck into Caribbean delicacies, international delights, refreshing cocktails and premium wine.