"I love New York because it is a vibrant, multi-cultural city. It truly has everything you need- except for premiership soccer and Formula One!" says Andrew Brown, a British-born, New York-based CEO of myGemma and WP Diamonds.
Just a little tap into his global luxury resale shop. myGemma is an online oasis for exceptional, hard-to-find jewellery, watches, handbags and sneakers. It is known as a one-stop online marketplace for both preloved and new luxury items from top fashion houses like Chanel, Louis Vuitton, Hermès, Omega, Cartier and Rolex, to name a few.
"At myGemma and WP Diamonds, we promote a truly circular economy: sell your unwanted luxury pieces and buy pre-owned. Shop affordable, expertly authenticated, sustainable designer pieces at myGemma. And sell your unwanted luxury pieces securely at WP Diamonds, in as little as 24 hours!" says Andrew.
myGemma has also partnered with the Arbor Day Foundation, the largest nonprofit membership organization dedicated to planting trees. From there, the company takes their commitment to sustainability one step further by planting a tree for every purchase.
So not only would you give precious gifts that can last a lifetime for your loved ones, but you will also make a lasting impact for the planet at the same time, win-win.
So apart from spending his days dedicated to the hunt for the most exceptional bijouterie, unparalleled diamond pieces and dealing with million-dollar business, his downtime is pretty much spent on a similar mission as his business; cruising the streets for great venues and hidden gems with the best slash most unique bites and booze. With 24 years of living in NYC, the list of venues here are hands down some of his most favourites that should definitely be on your radar. Let's jump right into Andrew's city guide on where to best drink and dine in New York City.
4 Charles Prime Rib
"Cosy, intimate speakeasy restaurant with amazing food. Be sure to get a side of their Elote Style Corn!""
Per Se
"Thomas Keller's 3 Michelin-starred restaurant overlooking Central Park. Incredible food and wine. Perfect for special occasions."
Chef's Table at Brooklyn Fare
"Here's a 3 Michelin-starred restaurant hidden within a grocery store! Difficult to secure a reservation but unforgettable food and experience."
Pastis
"This is my weekend go-to! I highly recommend their Eggs Benedict and Steak Frites."
Vin Sur Vingt in the West Village
"Vin Sur Vingt in the West Village is a cosy, dimly lit French wine bar. I recommend their Tuna Tartare, Salmon Tartine and Brie au Miel Tartine."
Marlin Bar at Tommy Bahama
"Great atmosphere, cocktails and happy hour with live music upstairs. Conveniently located in Midtown Manhattan."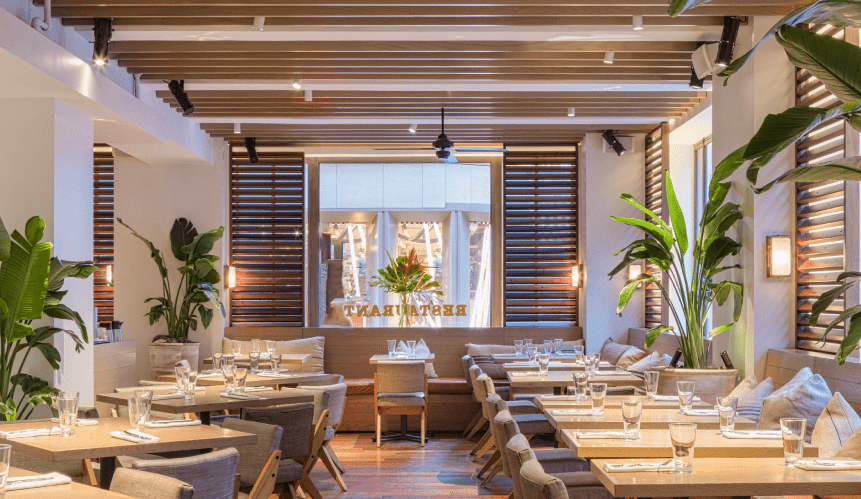 Photo credit: Tommy Bahama
Corner Bistro
"No frills, classic New York burger joint. Noisy, authentic dive bar famous for its burgers."
Dell'Anima
"Rustic, hearty, authentic Italian food. Never disappoint. I recommend their Cacio e Pepe."