Having the right concierge while globe-trotting is like having a travel fairy godmother who leads you to all the right places.
And for the A-listers, we're talking Lady Gaga, Katy Perry, Johnny Depp, Naomi Campbell, Calvin Klein, Paris Hilton, and the list goes on – Serena Cook is their ultimate travel genie.
Serena is the founder of Deliciously Sorted, the island's top concierge and events company. Whether you're longing for a splendid villa, the wedding of your wildest dreams, or top-tier concierge services for booking some of the hardest-to-reserve restaurants and indulgent massage sessions, Serena goes the extra mile to make sure your Ibiza expectations are met.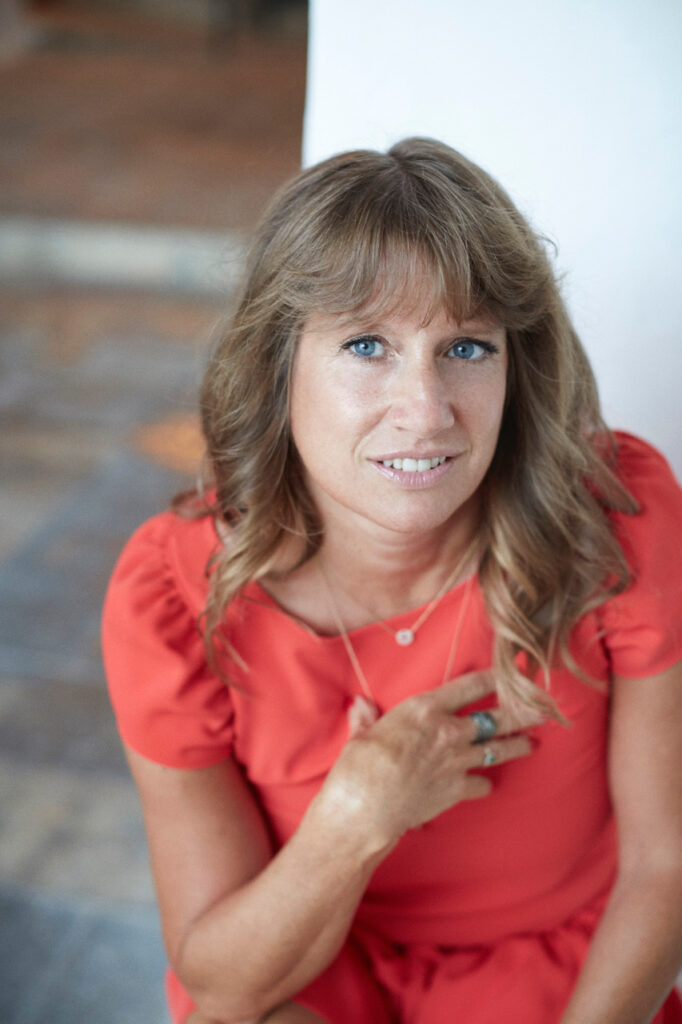 With a food-filled background close to her heart, we were eager to find out her favourite eateries in Ibiza. Delve into her world and explore her list of reliable slash ravishing restaurants, so you can have your culinary journey on the White Island "deliciously sorted" for your next visit.
1. First things first, since we are on the subject of food, how did the name 'Deliciously Sorted' come about?
The name Deliciously Sorted came about because my background has always been in food. I set up my first restaurant in Bogota when I was 21. It was a Mediterranean restaurant because at the time in Bogota, all they really ate was meat and rice, and it was a new offering at the time.
Once I sold the restaurant, I came back to London and worked in big restaurants of the 90s such as Atlantic Bar & Grill. I was approached to open England's first certified organic restaurant, Deli Organic, which opened in 1999 but closed in 2011 because it was ahead of its time.
A friend of mine at the time said, "What are you going to do now? Why don't you come and spend the summer in Ibiza?" As my friend knew, I spoke Spanish. I said, "I'd love to spend the summer there, but I need to make money." She said she had three houses and wanted to include Mediterranean lunch every day in the rental, and that I could be the cook. I said, "I'm not a chef," and she said, "It doesn't matter; you've owned restaurants, you're a foodie, and you're a good cook." So I thought, "Okay, I'm going to have a stopgap summer until I have my next career move." It was basically being in the right place at the right time and being in everybody's kitchens. They'd ask me for recommendations and reservations and a table at Pacha, and that's how it began, and that's why it's called Deliciously Sorted.
2. We're hungry to learn more about your delicious-sounding concierge company, tell us more:
Deliciously Sorted is 21 years old. It started with me being the fixer on my phone, handling requests anytime for anything, and now it has grown into a team of 17. We have three departments: one is for concierge services for restaurants, reservations, staff reservations, boat clubs, beauty, swimming lessons, and everything else. Then we have the villa rental department as well as the events department if you want to celebrate your 50th birthday or get married. Deliciously Sorted is the one-stop number for everything.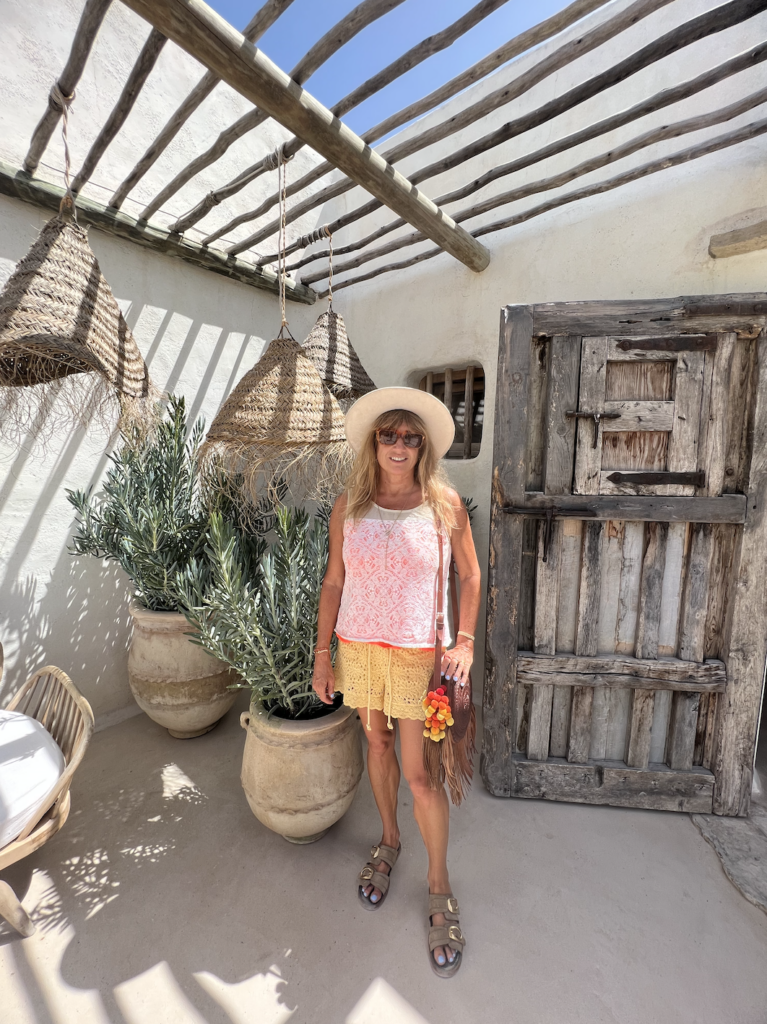 3. You've organised over-the-top travel plans for countless star-studded figures, which were the most challenging itineraries you've curated to date?
The most challenging experience was organizing a fashion wedding for Riccardo Ruini and Karmen Pedaru on the island of Tago Mago, which you can only reach by boat. Three days before the wedding, we used fishermen's boats to transport all the equipment, including generators, lights, tables, chairs, and alcohol. The chef was a friend of the groom who owned La Rosetta, an amazing Michelin-starred fish restaurant in Rome, so we had to make sure that the gas hobs were strong enough to cook all the pasta. One of my friends also worked with him to buy all of the ingredients he needed. Once we had all the production set up, we had to bring all the guests over by speedboat for the celebrations. The best moment I experienced was when one of the guests said "This is like a James Bond film."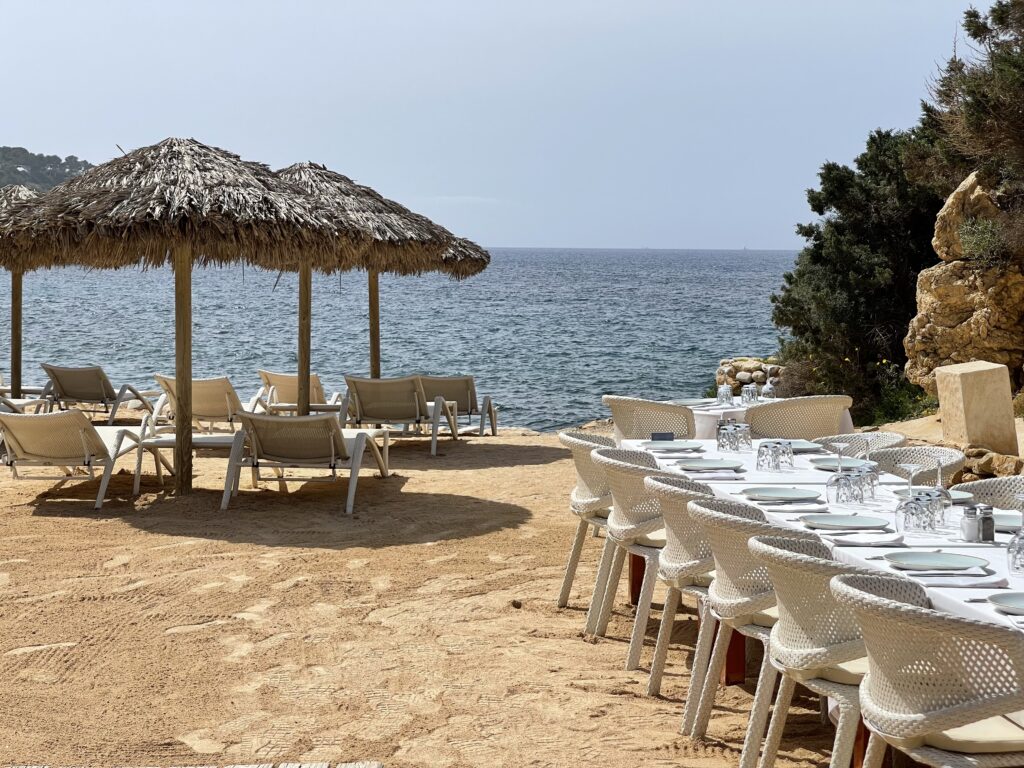 4. As a foodie, please share with us your top-secret Ibiza recommendation for:
Most Unique Dining Destinations
It would have to be El Bigote on Cala Mastella. There is no menu and they serve this one dish, the traditional 'Bullit De Peix,' which is a saffron fish stew followed by rice cooked in the paella pan using the same broth. They have only one sitting at 1.30 pm, and you have to reserve! In fact, the old King of Spain was turned away once when he arrived by boat from Mallorca without a reservation.
Another unique local dining spot that I love is Es Torrent. Here, you must order your main course the day before to ensure the freshest catch and they allocate the placement of paella pans on the hobs according to demand. It's one of the best fish restaurants in the Balearics. It's situated in a private bay and you can only have a sun lounger there if you are dining in the restaurant.
One of the restaurants I also absolutely adore is El Chiringuito on Es Cavallet. It epitomizes an Ibiza restaurant; it's all white and beautiful on the sand with a diverse menu and a gentle Balearic DJ in the background. A very fun lunch indeed!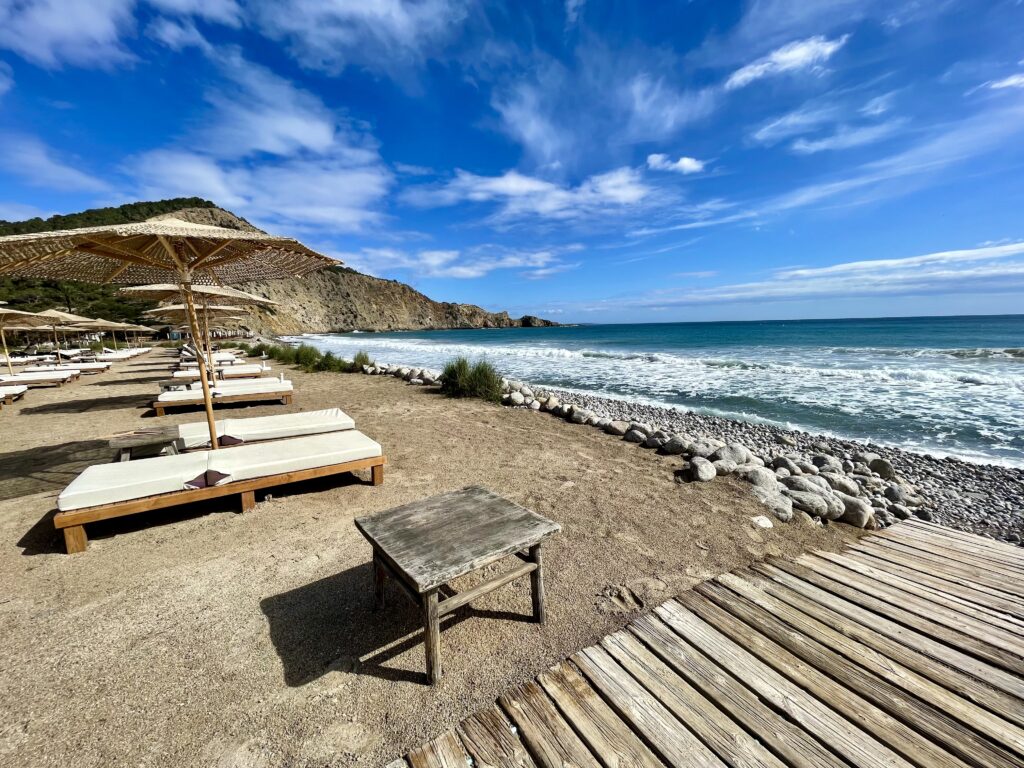 I couldn't overlook Casa Jondal in this article; it's a relatively new addition to the scene. The Executive Chef is Rafa Zafra, and the seafood is out of this world in a beautiful setting.
I would also like to mention Sa Capella, which has only been open for a month. It's located in an old church and offers fabulous food for an incredibly romantic dining experience.
Finally, I think my favourite dinner restaurant in the entire world is Macao set in the charming village of Santa Gertrudis, where Deliciously Sorted headquarters are based. Macao is an Italian trattoria with faultless food set in a gorgeous garden with great lighting.
Hardest-To-Get-To Culinary Spots:
I would say Es Codol de Forodat in Formentera, where the chef is Nandu Jubany. When in Ibiza, an amazing day out is a boat trip to Formentera for lunch because it has many of the best lunchtime restaurants. Es Codol is located on the south side, which is very reefy. There is no tender to bring you to shore, so you either have to swim in or take the ferry and a taxi.
Restaurants with Tranquil Vibes / Zen-Inducing Eateries:
La Paloma Cafe in San Lorenzo is where you can sit among the orange groves and enjoy a delicious, healthy, globally inspired menu.
Best Cup of Joe:
The newly-opened Patisserie Margot serves a great cup of tea and coffee along with delicious pastries and cakes as you can imagine.
Sip-Worthy Cocktails:
The rooftop at The Standard has incredible views of the UNESCO World Heritage site, Dalt Villa, and delicious cocktails to match.
Hole-In-The-Wall Spots With Top-Notch Bites:
Definitely, Chidas Bar & Cantina in Ibiza town serves amazing Mexican street-style cuisine, and it's famed for its tacos.
Sip Happens, Where To Buy Wine:
Ibizkus, a brand generic to Ibiza, offers a crisp Rosé, a dry white, and a full-bodied red. I love that it's from the island, especially because I'm a co-founder of Ibiza Preservation.org, and I try to support a zero-kilometre supply policy as much as possible.
Learn more about Serena and Deliciously Sorted here: https://www.deliciouslysortedibiza.com/
[Images courtesy of Serena Cook]