After overcoming the hurdles of a divorce, I decided to do something radical – I froze my eggs and took a leap of faith to embark on a solo journey of self-discovery as a single woman. Eat, Play, Love, I thought. I had already done a lot of praying and healing due to my work as a Holistic Therapy Specialist.
What better way to embrace this new chapter of my life than to explore the enchanting streets of Paris, a city known for romance, art, architecture, and culture? Despite my initial judgment about Paris, this trip proved that Paris is definitely better the second time around, and if I were to be bluntly honest, even better as a single woman!
As I wandered through its charming neighbourhoods, sampled its culinary delights, and embraced its artistic essence, I found myself falling in love with the city and with myself all over again.
Join me on my solo escapade to the City of Love.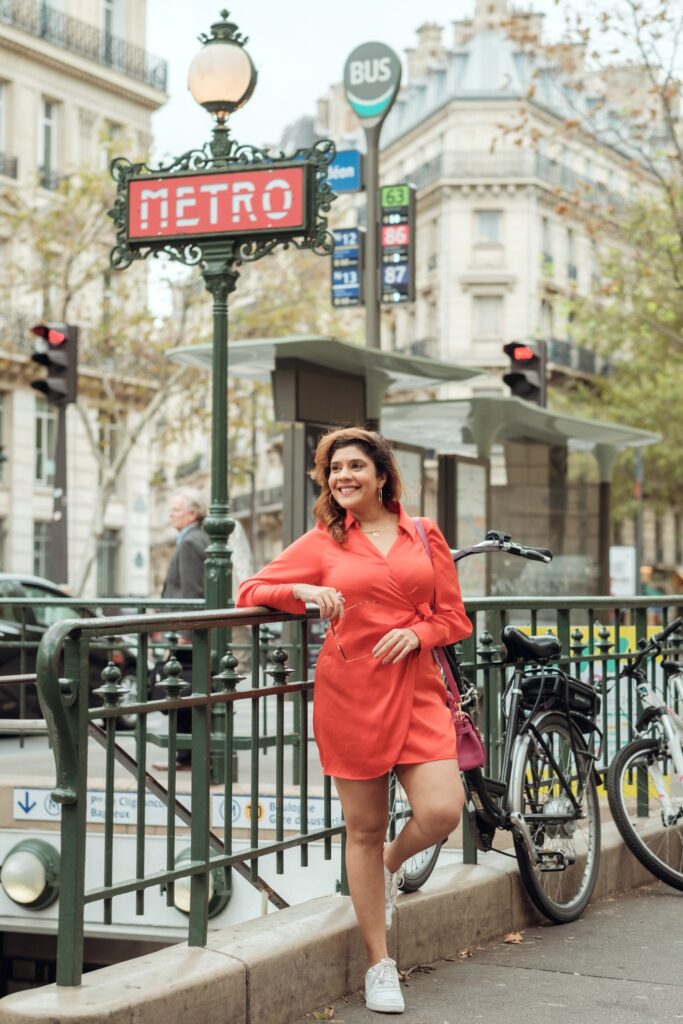 Finding the Right Nest
Stepping into my first solo adventure in nearly a decade, I set out to experience Paris with fresh eyes and an open heart. My intention was to simply be open to serendipity, with less planning and more spontaneity and flow, but I knew that finding the perfect home in Paris would be the key to making this trip magical.
I believe that a wonderful journey begins with the right accommodation, and because I was travelling solo for the first time in 10 years, I chose to stay in an Airbnb to make new friends and truly experience the local culture.
My serendipity began right here in Bangkok, where my French Bulldog, Venus, and I ran into Slim, a lovely French man at our usual coffee roaster, Roots, the day after I booked my ticket to Paris. Venus greeted him, and we got to talking. He told me that he was from Paris, and I knew it was my cue to ask, "I'm going to Paris next month. I booked my ticket last night. Can you tell me where the best place to stay is?"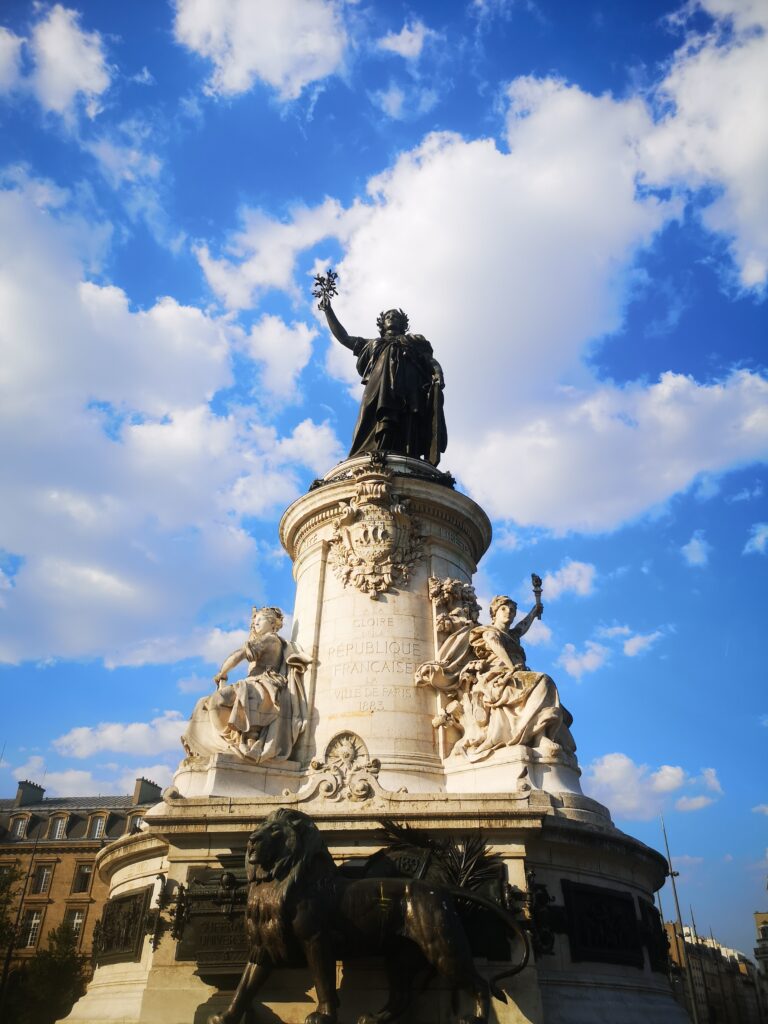 He is an Airbnb host himself, but his place is fully booked, so he recommended the Le Marais district, a lively area filled with bars and restaurants, perfectly suited for a solo traveller seeking a vibrant and joyful atmosphere.
Later that night, I stumbled upon Jo's Apartment on Airbnb and instantly knew it was the right choice. Perched on the top floor, it offered a quintessential Parisian view of Rue de Turenne. To make sure I had the right place, I sent this listing to Slim, who confirmed that the location was superb.
Arriving in Paris
I will be honest that I completely forgot how metro stations in Paris aren't so luggage-friendly! Navigating my 25 kg luggage was definitely a challenge and a seriously sweaty experience.
I was pleasantly surprised, though, by the warmth of the people who literally, at every station, lent a hand to help me. This immediately changed my perspective about the people. For sure, when travelling alone, we need to be cautious and mindful, and with the right attitude and safety, I found Paris to be far friendlier and safer than expected.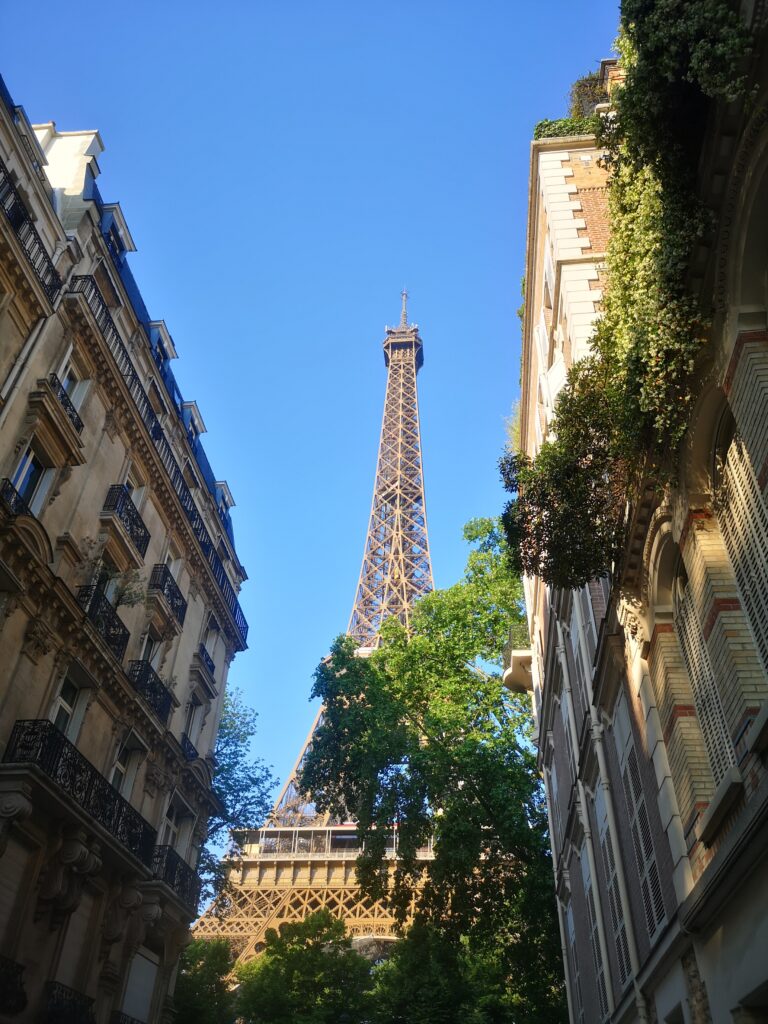 Navigating my way to Jo's Apartment felt like stepping into my own version of a movie. The street was like a picture-perfect scene on a warm summer morning. As I walked from Republique Station to Jo's place, I watched the city come alive. People strolled with their dogs, and others enjoyed their morning coffee and croissants at charming cafes.
At that moment, I knew I had truly arrived in Paris.
My adventure began with a ride in the elevator up to Jo's place. This elevator was just big enough for me and my luggage. I won't lie; my first thought as I went into the elevator was, "I'm worried I will be stuck here!" But I quickly shifted my mindset and said to myself, "This is the beginning of a once-in-a-lifetime adventure I had been seeking… so ride on.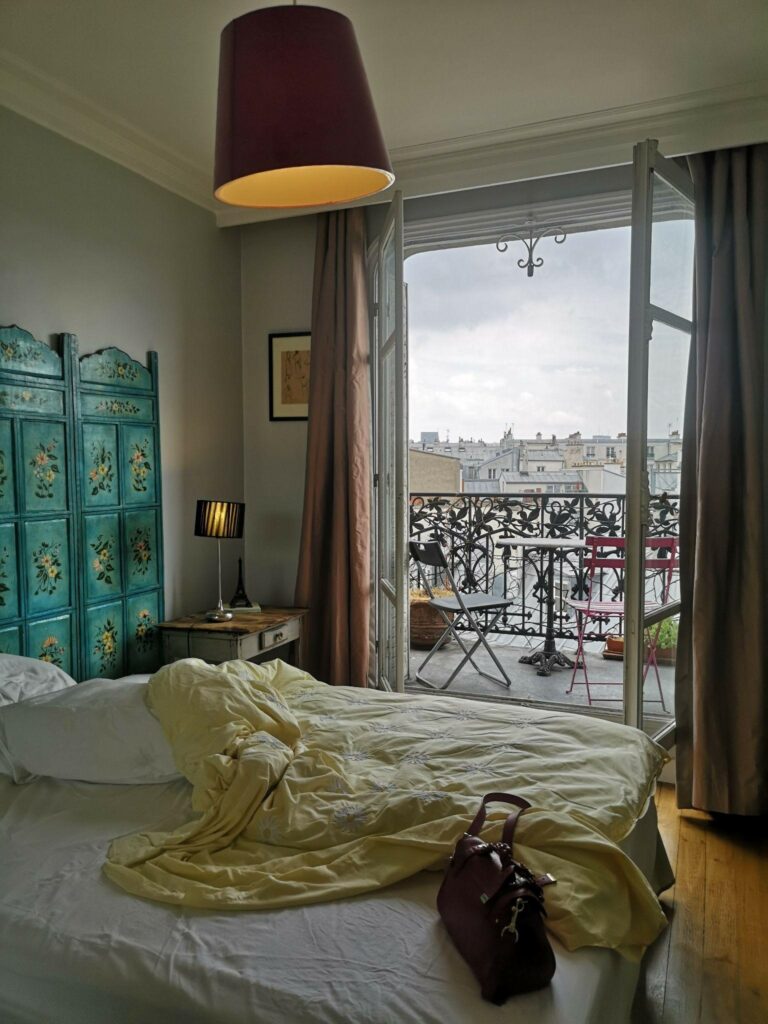 Jo's Apartment: A Slice of Parisian Dream
Jo greeted me warmly and kindly helped me with my luggage as we went up to her apartment on the top floor. When she opened the door, I saw a cute terrace with tiny coffee chairs, just as I had imagined. The sunlight peeked through the living room, highlighting the cosy couch and the little art pieces that showed me Jo's attention to detail and creative touch.
I wanted to get to know her better, so we chatted for about 20 minutes. I found out that Jo is from San Francisco and has travelled a lot, exploring both Asia and Europe. It felt like I was catching up with an old friend. During my stay, we had lovely chats, and we even went out for dinner together.
Jo gave me a lot of recommendations during my stay, and she was always there to help whenever I needed.
Before I set out to explore Paris even more, I stepped into my bedroom, which is also next to the terrace overlooking the lively Rue de Turenne. The back of the bed was adorned with a creatively painted wooden panel in a soothing blue shade.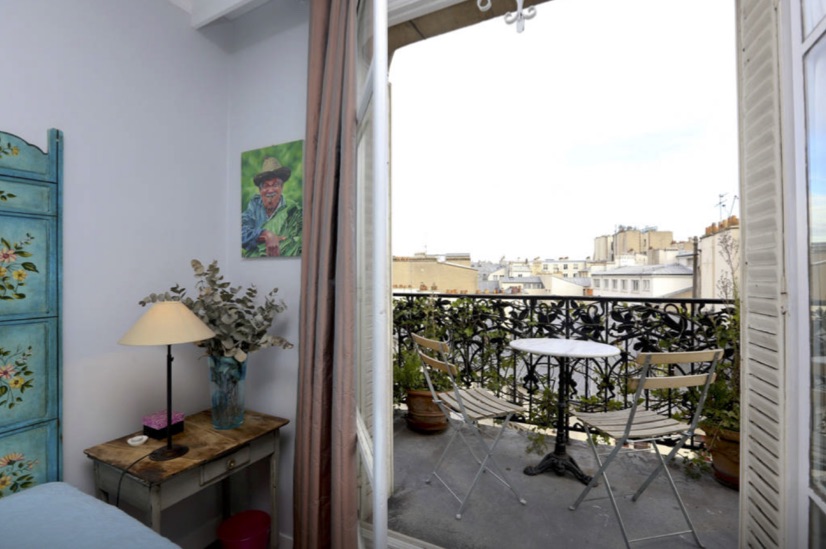 That's what made this bedroom so adorable and artistic. Honestly, the best place for capturing Parisian moments for me was right here – from mirror selfies to watching the sunrise at 6 in the morning with a cup of coffee.
The best journey starts with where you choose to stay. Jo's place comes highly recommended, and you can find her listing here.
Cafe de Post: Where Brunch Dreams Come True
My solo adventure kicked off with a visit to Café de Post, a charming neighbourhood café located right across from Jo's Apartment. This delightful spot offered a variety of options, including vegan, gluten-free, and traditional dishes, making it a paradise for brunch enthusiasts.
Little did I realize how popular this place was until I arrived. Luckily, I didn't have to wait too long to secure an outdoor seat – an essential part of every Parisian cafe experience.
Although I visited the café a few times during my trip and tried a few items, I was particularly fond of the vegetarian burger and sweet potato fries – a perfect blend of comfort and flavour. You can tell a vegetarian burger is good when the patty itself stands out, and I was thoroughly impressed with the homemade patty.
The atmosphere here also encourages mingling with fellow diners, whether it's the people at the next table or the staff at Café de Post. It's also an excellent spot if you enjoy people-watching or want to make it your starting point for planning an exciting day ahead.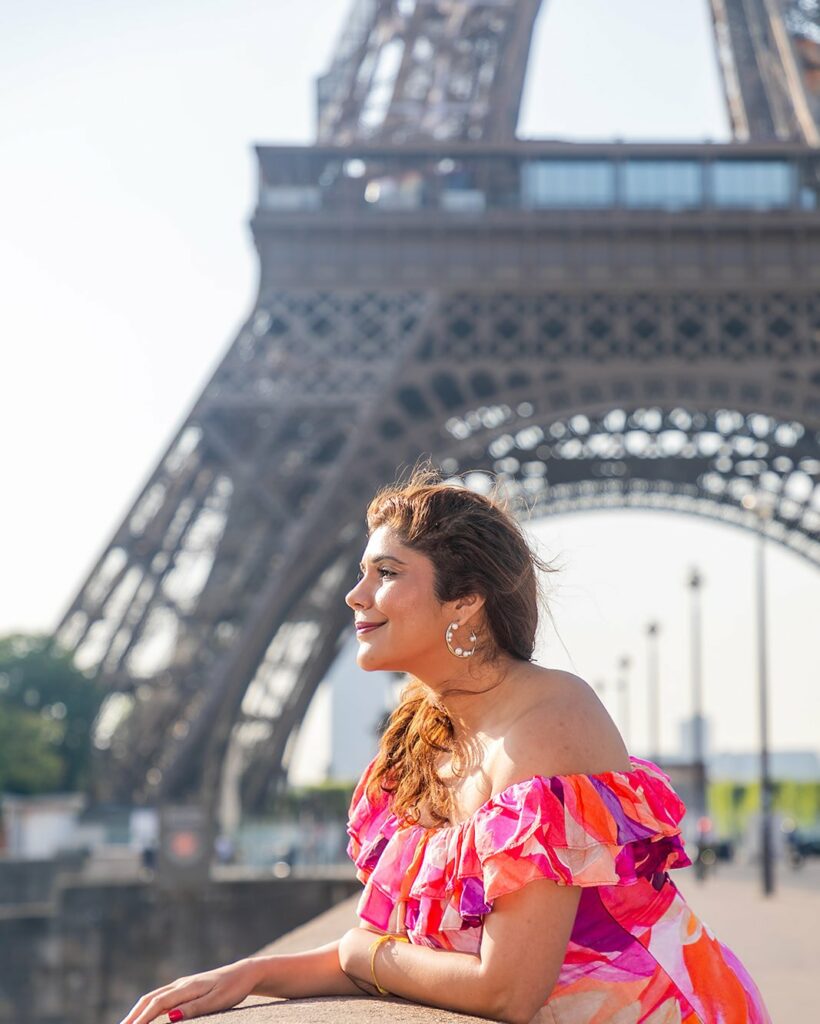 Discovering the Artisan Chocolaterie
Continuing my exploration of Le Marais, I followed Jo's suggestion to visit Jacques Genin, a highly recommended artisan chocolaterie. This was more than just a regular chocolate shop – the place felt like a minimalistic art gallery, with impeccably dressed staff readily available to assist at every step.
The New York Times described Jacques Genin as "a holy site for connoisseurs." This comes as no surprise, considering each piece of chocolate is a work of absolute art, meant to be savoured slowly for its exotic, sweet taste. The chocolates feature herbs, and spices, as well as more familiar flavours such as mint, orange, dark chocolate, and standard milk.
Jacques Genin's chocolates and caramels grace the tables of many esteemed French hotels and restaurants. I seized this opportunity to buy boxes of artisan chocolates as gifts for my friends and family in Amsterdam and London, my next destination after Paris. The chocolates are placed in beautifully designed silver metal boxes adorned with Jacques Genin's logo, which was simply irresistible.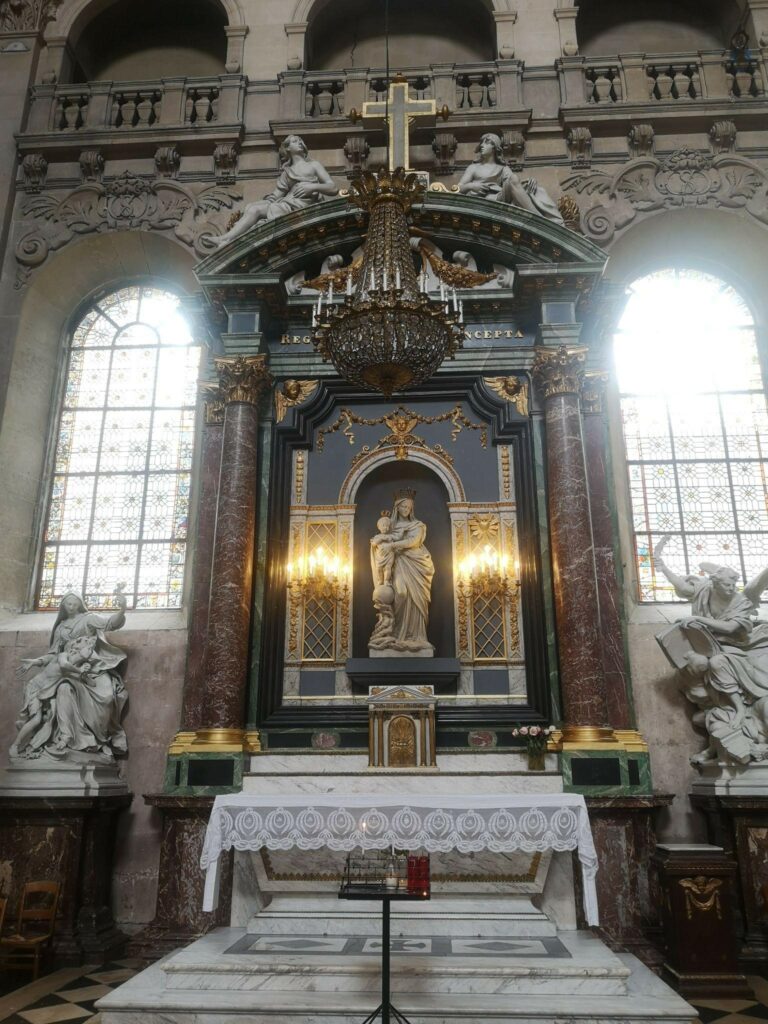 A Casual Stroll & A Visit to St. Paul's Church
Exploring local churches is one of my favourite activities in any European city. They offer insights into the city's history and showcase captivating art, all in one place. Plus, these sacred spaces offer a peaceful spot to relax and rejuvenate during my walkabouts.
So, I set off on a leisurely stroll towards St. Paul's Church. The path from Rue du Turenne to St. Paul's Church is lined with a variety of attractions – from high-street fashion stores and quaint art galleries to inviting daytime bars, aromatic coffee roasters, charming bakeries, and diverse restaurants.
Approaching St. Paul's Church, its beauty caught my eye from a distance. If I hadn't stayed in this neighbourhood, I probably wouldn't have visited this church as it is not one of the most highlighted tourist attractions. Yet, I'm glad I did. Its interior design draws inspiration from the Church of the Gesù in Rome and possesses a very Baroque style.
Within the church's walls, I spent an hour people-watching, lighting candles, and embracing the beauty of the statues of Jesus and the Virgin Mary. These moments of connection and reflection added a meaningful layer to my trip, for sure.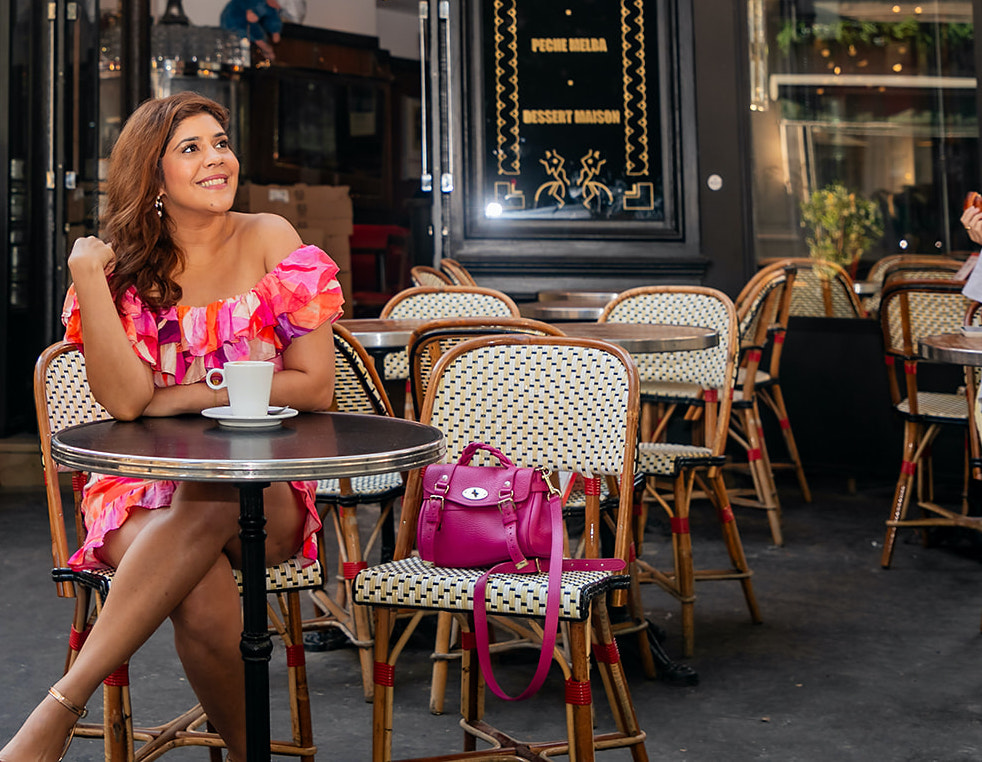 Romantic Adventures in Paris
Before my Paris escapade, I had already dipped my toes into the dating world without the help of dating apps. Friends played cupid, suggesting some wonderful men, and I've been asked out at cafés and bars in Bangkok, which apparently is now quite rare.
By now, my friends were really living vicariously through me and all the fun dates that I had been on. Two of them had a wild idea: why not try out Bumble, a dating app, and go on dinners and drinks when in Paris? I'm all for trying new things, but this was definitely out of my comfort zone. I've always been in long relationships, never swiped right in my life, and I had so many judgments about dating apps. But, I thought, so far I've always been quite lucky and blessed, so why not?
One of my girlfriends set up a Bumble profile for me a week before Paris. She even swiped left and right for me – talk about friends having fun on your behalf! It didn't take long to feel the vibes and figure out who was really worth meeting. To me, it was just like meeting people offline; you get a good sense of them from the online chat. I'll save these tips for another story!
Luckily for me, I met this incredibly handsome French-Italian man in his 40s. Stylish, well-traveled, and full of tips and recommendations, he's been another guide along with Jo. I followed his advice and checked out Atelier des Lumières – this light exhibition showing artwork from a prolific and unclassifiable painter, Marc Chagall.
As for our dates, they have been nothing but pure magic – craft beers, cocktails, gelato, and strolling around Le Marais. I was glad my friends pushed me over the edge. Paris became a little bit more romantic at this point. He also introduced me to Emma Peters, a rising artist of French music, a blend of hip-hop and electronic. You can listen to her playlist here to get your Paris vibe on.
Most of my Paris trip happened right here in Le Marais, but I can't leave Paris without seeing the Eiffel Tower. I decided to spice things up a bit and booked an Airbnb experience to do something fun – a photoshoot at the Eiffel Tower. Paris is all about romantic couple shots and love stories, but I wanted to show that this city can also be romantic and fun for a single woman. I found Jupiter's experience on Airbnb and noticed another solo traveller had signed up for the next day – a perfect chance to make a new friend.
My experience was shared with Erica, a gorgeous lady from the US, all dolled up in a neon floral dress and fancy Louboutin shoes. I knew that this experience would be full of laughter and conversations. I was glad I booked it and trusted my gut on this. We really hit it off, talking about empowering women and our therapy work in helping women with fertility and beyond. Erica and I decided to meet up again for a sunset river cruise date – talk about spontaneous serendipity!
As for Jupiter, our guide for the experience, he was cool, open, and went beyond to make our experience fun and light-hearted, making sure to also share the history of Paris along our walk. And look at these gorgeous pictures; I mean, it's a must-do in Paris. You can book Jupiter's experience here.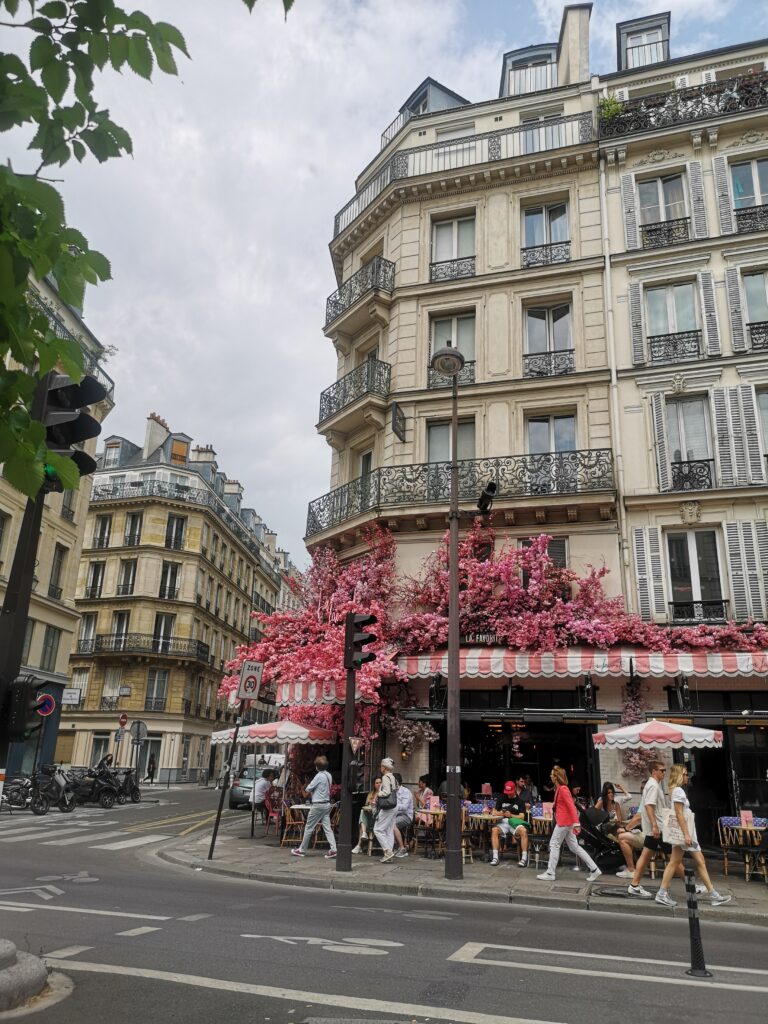 The Last Bit of La Marais
No visit to Jo's place is complete without a stop at Tout Autour du Pain. They are known for crafting award-winning croissants that have become one of the neighbourhood delights. From this local bakery, I ventured off to Marché des Enfants Rouges.
Nestled in the heart of Marais, the Marché des Enfants Rouges is a lively paradise for food lovers. This historic market presents a variety of delicious options, from homemade African treats to Italian, Lebanese, and French cuisine. And let's not forget the abundance of fresh berries and fruits that add a burst of colour to the scene.
I remembered Erica and Jupiter enthusiastically talking about African food as a must-try in Paris, so when I was at the market, without hesitation, I headed straight for the North African-style Chicken Curry with Rice. The added touch of spice was perfect and just what I needed after indulging in pastries.
Around the market, you'll discover a range of cocktail bars, ideal for some R&R, people-watching, and soaking up the sunny vibes. Make sure to grab an outdoor seat for that perfect Instagram-worthy drink and pictures.
With various options to choose from, any bar you choose will likely be a winner, thanks to the neighbourhood atmosphere. I started my cocktail journey at Cafe Charlot, sipping MARIO & CO, one of their signatures. It's a delightful mix of Belvedere Vodka, Ginger Beer, Citron & Limoncello.
Fully refreshed, I was now ready for whatever the night would bring.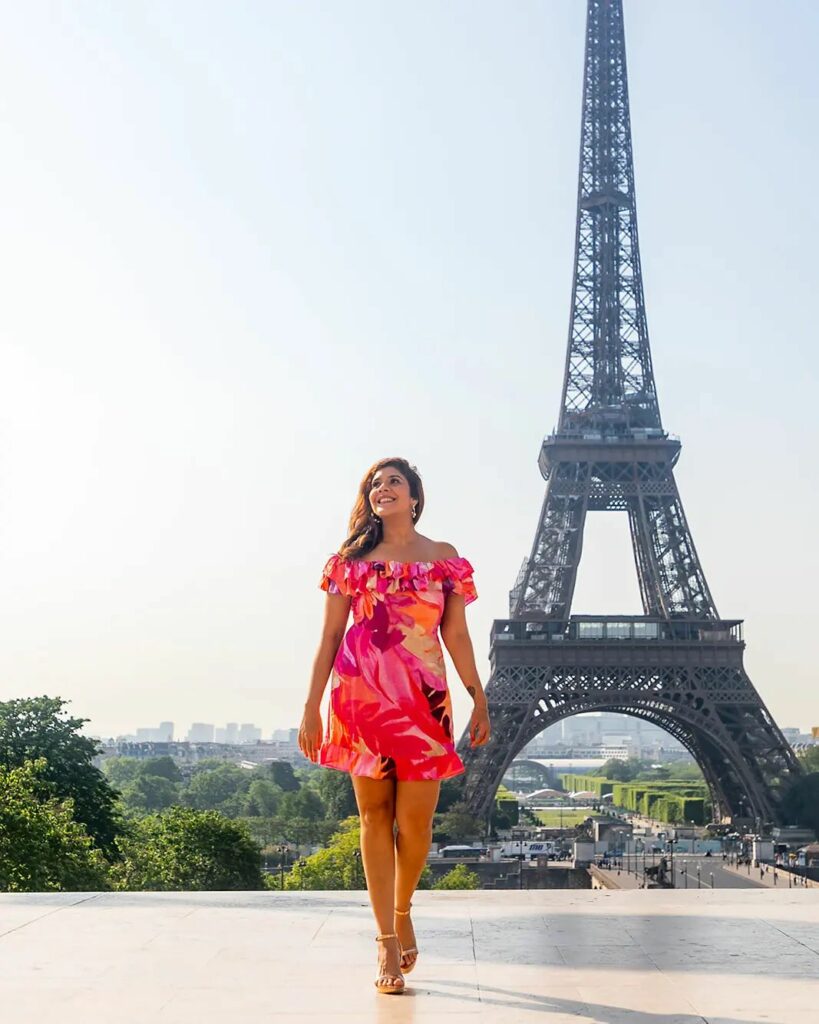 Fun Dinner Date with Jo
During my stay in Paris, Jo extended a warm invitation for a dinner date, suggesting we try her go-to spot – Bouillon République. This charming eatery was conveniently located just a short 5-7 minute walk from our place and promised an authentic taste of French cuisine without breaking the bank.
Knowing that the restaurant filled up quickly, Jo made sure we had a reservation in place two days in advance. When we arrived, the space was already abuzz with diners. We got a cute window seat, and as it was summertime in Europe, the sun was setting much later at night, allowing us to soak in the République view as we dined.
After scanning the menu, I went for the Sea Bream Fillet and Ratatouille, a flavorful combination that came at a surprising cost of just a little over 12 euros. What impressed me even more than the affordable price was the dish's delicious taste and the ambiance that truly embodied the essence of a classic French dining experience.
I decided to read up on Bouillon République's reviews after we came back home. While the place received mixed reviews online, my personal experience was above and beyond. I would recommend giving this place a try – enjoy a delightful French meal for just 12 euros – why not?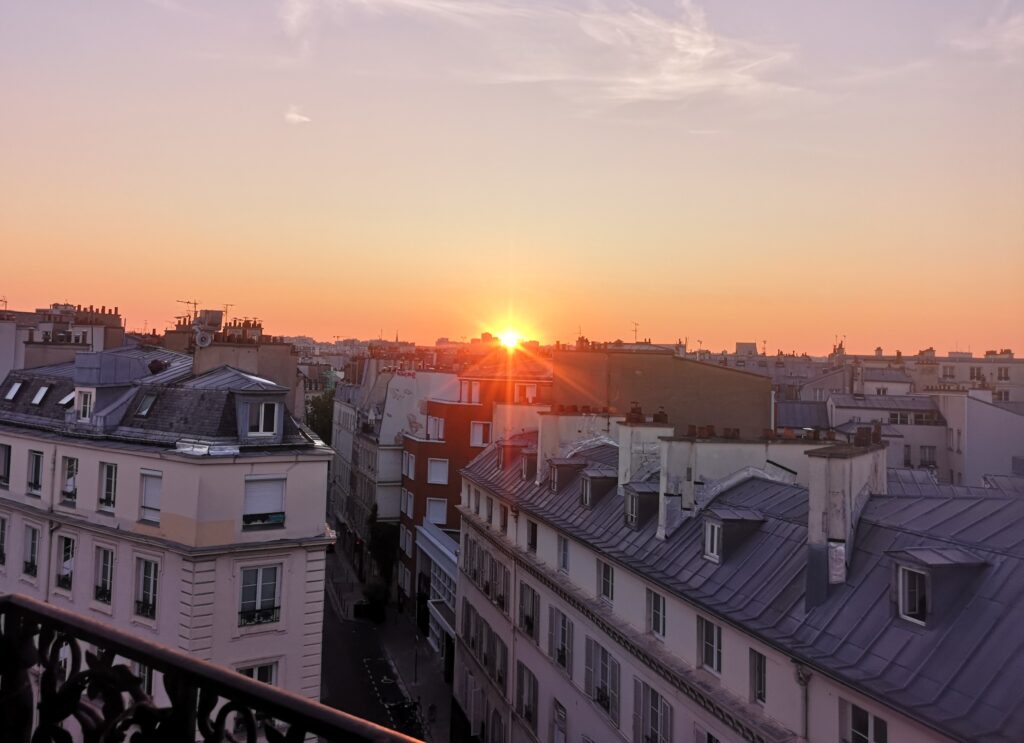 The Final Moments in Paris
On my last day, I woke up before dawn to catch the last sunrise before embarking on Amsterdam. As I watched the sun paint the sky orange over my warm cup of coffee, a deep sense of gratitude washed over me.
I looked back at everything in my life like a movie – my marriage, the divorce, how far I have really come in my growth and evolution, and how courageous it was for me to embark on this trip and beyond.
I stepped into the unknown way before arriving in Paris, and I found myself rediscovering the essence of who I really am. Amidst the uncertainty that was waiting ahead, I was no longer scared because I knew I had unearthed a new chapter of my life, leaving the shadows of the past behind.
Like that very sunrise, a new dawn has begun for me, a symbol of new beginnings.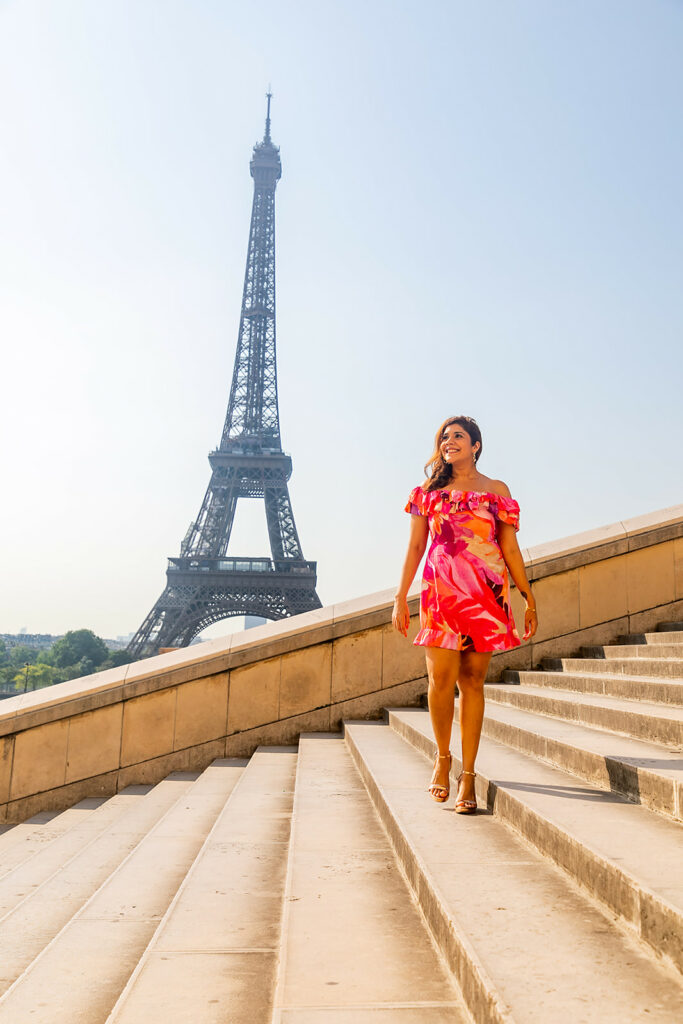 Trusting my instincts led me to Paris, countless serendipitous moments – from the remarkable Airbnb host to the ideal Parisian dates showing me the possibility of new love in my life. Life truly will have my back, and I can absolutely trust in the path ahead. I was right where I was meant to be. Je t'aime, Paris, and thank you!
[Images courtesy of Sabina Ahuja]