It was a scorching hot summer day in Stockholm and according to the local news, it was the hottest summer in two decades. Nevertheless, it is always beautiful!
Flowers are in full bloom, stunning boats are on display, leisurely walks and alfresco dining are in the daily itinerary.
As the summer sun bathes the picturesque Swedish countryside, our Scandi-Asian family decided to explore and enjoy the gorgeous city of Stockholm.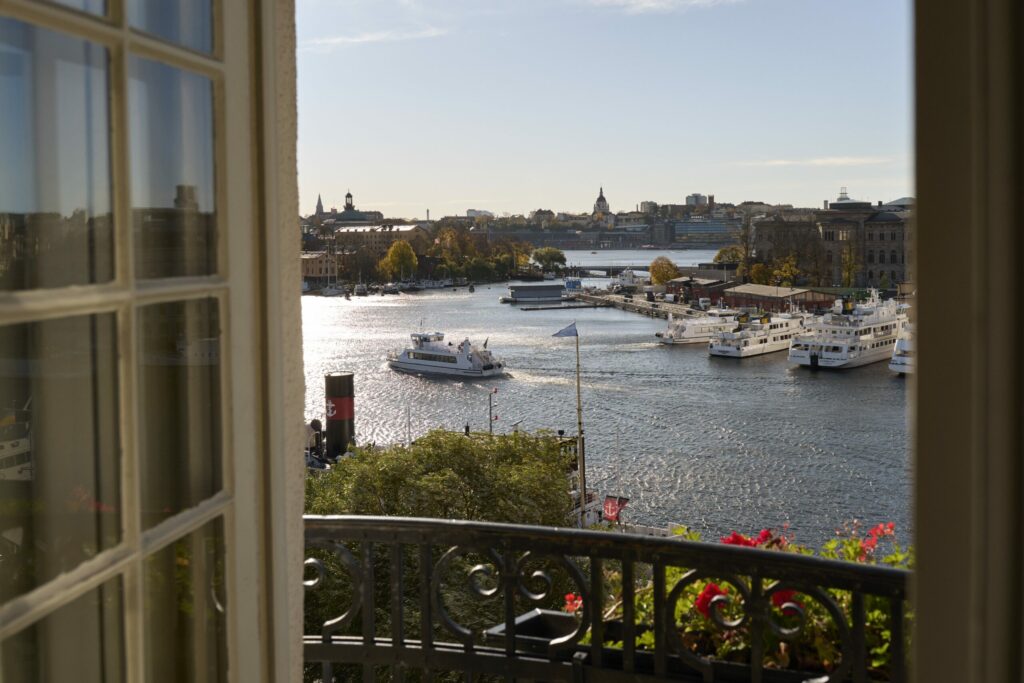 We booked a week's stay at Stockholm's gem address, Hotel Diplomat.
This hotel has consistently featured as the backdrop of some of our informal get- togethers during past years. Be it a leisurely family luncheon, unwinding with colleagues over drinks, or simply indulging in some people-watching along the picturesque Strandvagen.
The enthusiastic accommodation recommendations from our social circle have piqued our interest for a while now, prompting us to make a reservation.
The property's waterfront panorama is noteworthy, of course, its one of the significant factors in our selection process. Furthermore, it's worth highlighting that this hotel is one of the few hotels in Stockholm with a positive track record among families who travel, further affirming our decision to stay here.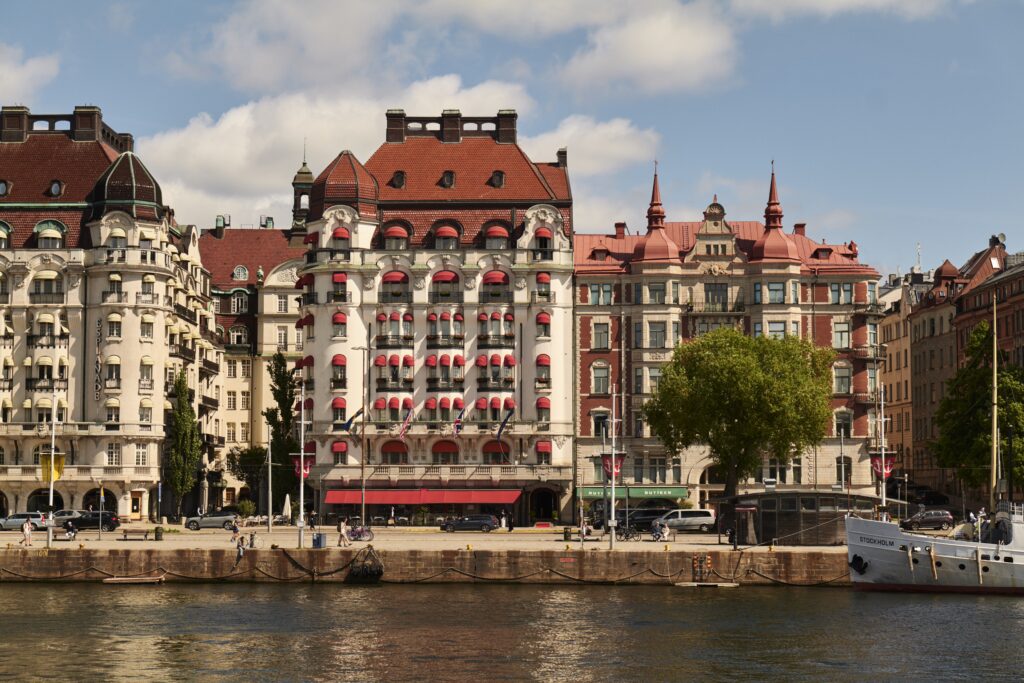 First Impression: Exterior and Interior
Designed by architects H&E – Georg Hagström and Frithiof Ekman, the building is easily noticeable with its red window canopies, reminiscent of a prestigious residence from the 1900's. The boutique hotel is an elegant Art Nouveau building in the center of the upscale Ostermalm.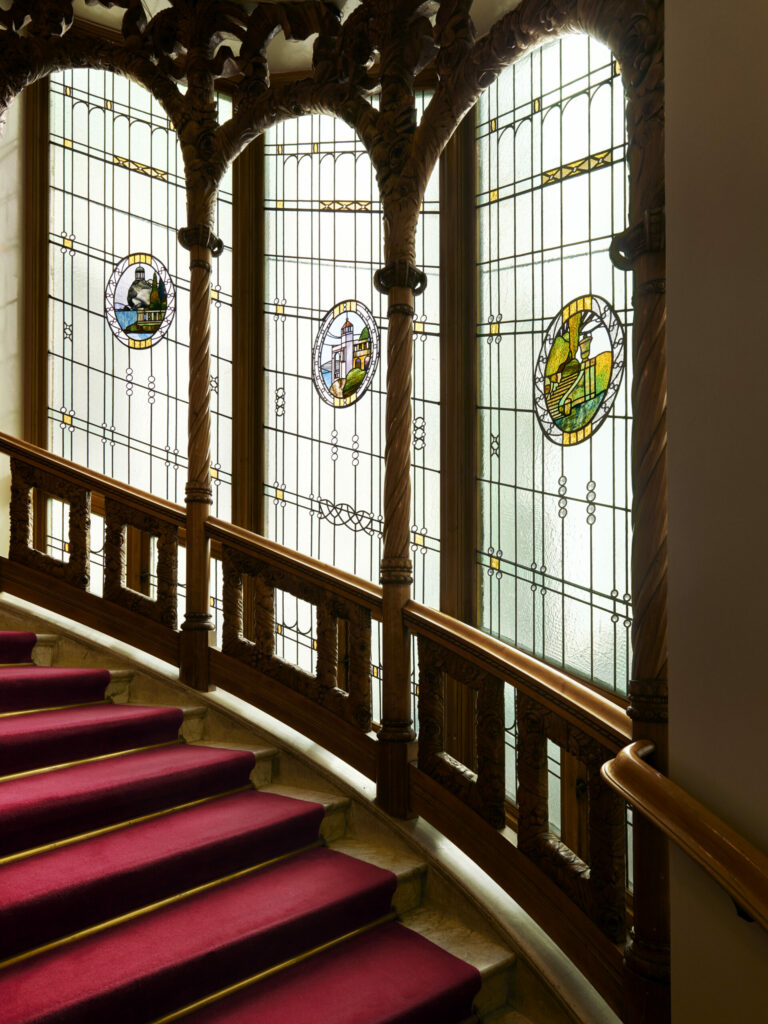 As you enter, an understated opulent petite lobby welcomes you, and you'll instantly spot the marble staircase adorned with exquisite enameled glass artwork. Adjacent to the reception area, is an all-day dining restaurant and hotel bar with tasteful interiors made from the finest marble, and brass, embellished with expansive glass windows overlooking the archipelago.
A harmonious blend of vibrant reds and lush greens adds bursts of color throughout the area. The chic furniture selection effortlessly integrate into the overall ambiance, creating an atmosphere of subtle glamour.
As you traverse the corridors toward your accommodation, an array of photographs and artworks grace the walls, a meticulously handpicked home art collection, as if curated by an art connoisseur.
Check-in Experience
The reception area is bustling with tourists, resonating with the buzz of excitement through hushed conversations in American, Spanish, and British accents. Amidst this lively scene, we find ourselves eagerly awaiting our turn. Engaging in conversation with fellow guests, we discover a mix of first-time visitors exploring the Venice of the North and a familiar couple checking in, accompanied by their adorable puppy. Indeed, you're welcome to check in with your furry companion.
Murtaza at the front desk apologized for the long wait, assuring us that our room is ready even before the official check-in time. ( which we had requested a day before our arrival). His warm and inviting demeanor and attentive service offer a delightful experience for a family like ours (complete with a pram, a toddler, and a newborn). Needless to say, this marked an excellent beginning to our journey.
The Room
On our first few days, we booked the executive deluxe room. As you enter, you will be greeted by lofty ceilings and expansive glass windows, an immediate sense of openness and airiness envelops you.
The living space extends graciously onto a spacious balcony with the view of Nybroviken Bay, where boats are constantly in motion against the backdrop of the clear blue summer sky.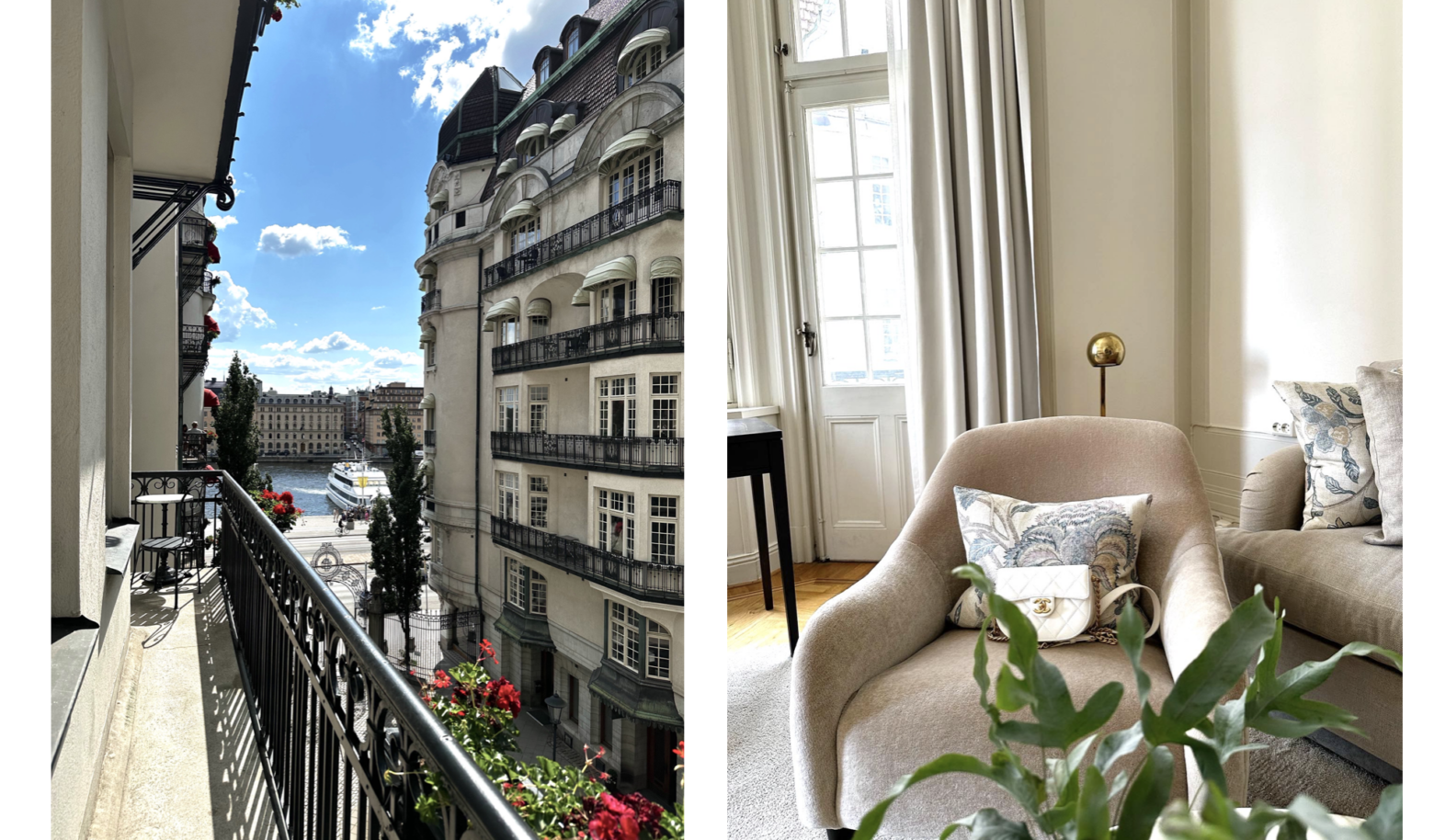 As we were guided to our room, it felt like Murtaza's voice faded into the background, replaced by an exhilarating rush of thoughts. As a mother of two, I couldn't help but imagine seamlessly coordinating my kids' ensembles the instant we step outside!
Designed by renowned architect Per Öberg, the interior's color scheme of whites, creams, and beiges gives an ambiance of light and refined atmosphere- a nod to the finesse of Scandinavian design. The bathrooms' size easily accommodates shared moments like our kids' joint baths in the tub.
The Restaurant
An array of artisanal breakfast offerings awaits at the cosmopolitan restaurant with waterfront views. Notably, our daily indulgence in homemade oatmeal porridge with fragrant cinnamon and apple has become a cherished routine. Saeed, ( I hope I got his name correctly)-our beacon of service at the restaurant, deserves a special mention. Despite the bustling morning crowd, he consistently goes above and beyond, catering to our off-the-menu requests such as chocolate cream for our son's pancake. Moreover, understanding our family dynamics, he kindly refrains from rushing us even after breakfast hours, allowing me to comfortably tend to my little ones without any hurry. Kudos to Saeed for truly enhancing our dining experience.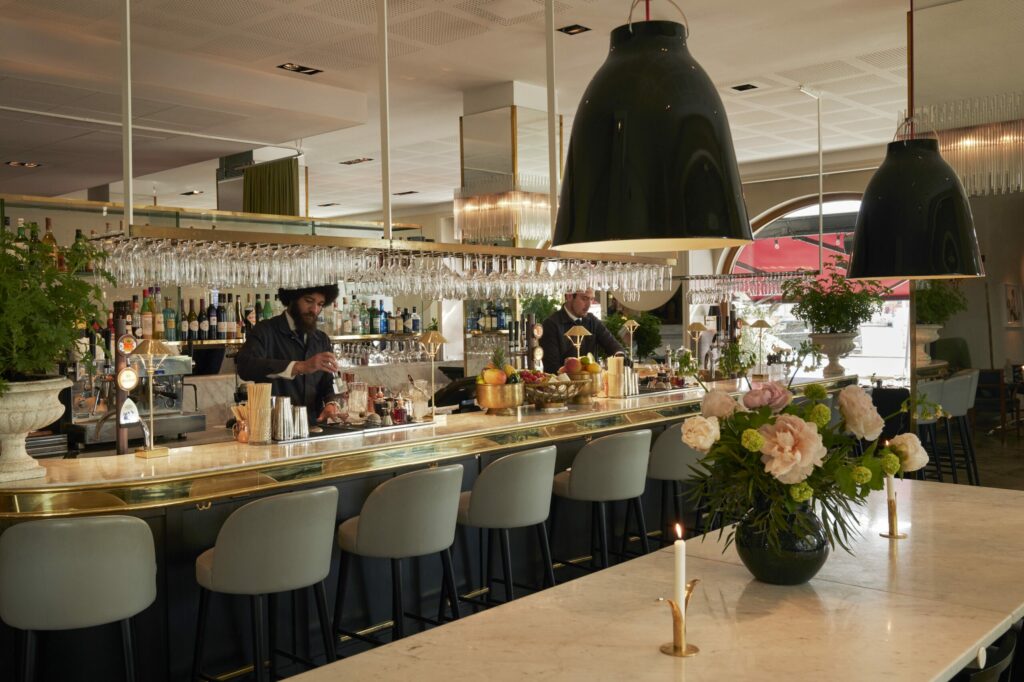 Occasionally, we enjoy lunch at this charming restaurant, inviting some of our local Stockholm friends to join us. My personal favorite is the classic Toast Skagen. While I wish for a broader menu selection, it's no surprise that the food maintains a consistently high standard. The menu offers Scandinavian classics with Mediterranean flair.
In my spare and alone time, you will find me unwinding by the outdoor tables fronting the shoreline, watching the sunset, and people-watching with the company of my glass of Philipponnat Royal Reserve.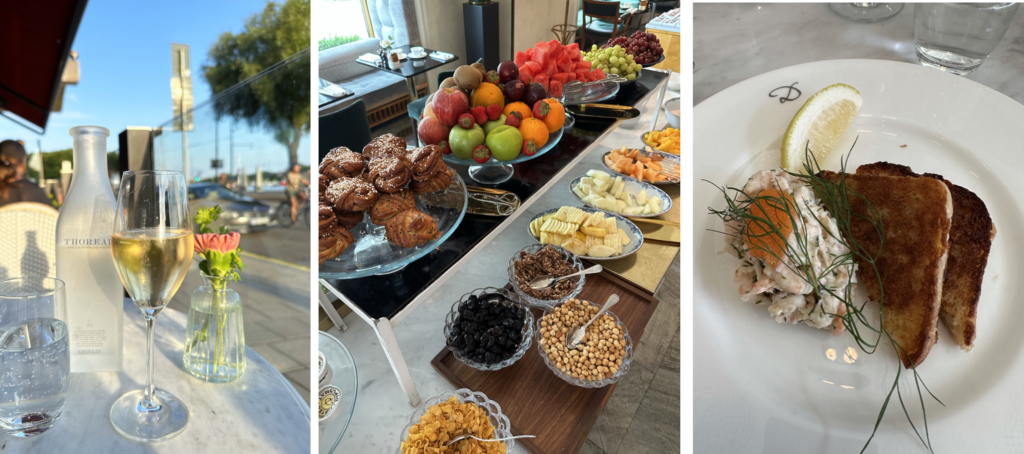 Overall Review
This family-run boutique hotel for four generations has been a landmark of fashionable Stockholm because of its historic background and beautiful facade. A well-maintained property coupled with its commendable staff service which we thought was what makes it stand out. However, the check-in process could have been smoother and quicker if there were more staff at the reception during that busy summer week. Overall, the tiniest nuances leave a lasting mark, setting it apart as the epitome of luxury.
Date of stay: July 2023
Type of Review: Mystery Property Visit
Visit-Worthy Places within your Radar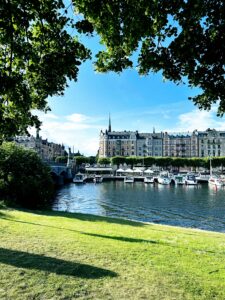 Svensk Tenn – A stone's walk away from the hotel, you'll find the finest and one-of-a-kind Scandinavian furniture at this shop where you will also recognize some of the rare and beautiful pieces inside the Hotel Diplomat.
Ostermalmshalen- the city's food hall where you can find fresh produce, organic food, and deliciously sorted food selections. You'll find small restaurants inside that are listed in the White Guide and Micheline guide.
Djurgåden- This beautiful and massive park when you need your calorie-burning fix with the backdrop of beautiful nature and a dose of fresh air. Don't miss stopping by one garden cafe along the way and you might spot the tastiest "kanellbulle".
The Royal Castle- Just 1.2 kilometers from the hotel, we could walk it in 20 minutes tops. The Royal Palace of Stockholm is a stately residence that serves as the official abode of His Majesty The King and hosts numerous royal receptions open to visitors throughout the year.
Nordika Museet – Sweden's Largest Museum of Cultural History, the Nordic Museum, Houses an Extensive Collection of Over 1.5 Million Artifacts
Biblioteksgatan and Norrmalmstorg – walking distance from the hotel you'll find, Swedish homegrown fashion labels such as Rodebjer, Filippa K, Acne, J.Lindeberg and Byredo to name a few.
Livly – special mention to this Swedish baby brand that we love because of the fantastic quality of the fabric. Their baby clothes are made of the finest pima cotton that is very gentle on the newborn's skin. Both my kids have been using it and the quality is a test of times.
Strandvagen 1- Either your are celebrating something or here for a happy hour rendezvous, the uninterrupted waterfront view compliments the lively vibe of this walking distance restaurant/ bar from the hotel
HOTEL DIPLOMAT, STRANDVAGEN 7C , 114 56 Stockholm
Hem