Bangkok's food scene is in its heyday thanks to a spectrum of golden standard restaurants that offer a diverse range of cuisines.
For ardent fine-dining lovers who are on the lookout for a modern haute cuisine interpretation of conventional Thai dishes, R-Haan is worth checking out.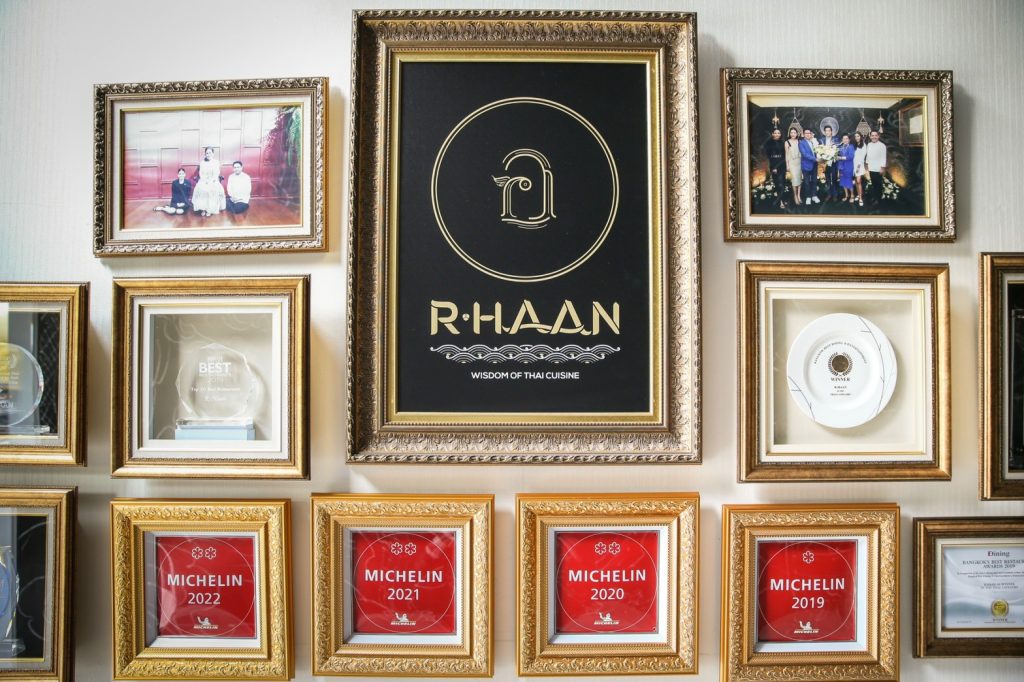 Translated as "food" in Thai, R-Haan and its menu goes beyond offering a substance to sustain life nutritionally. The food here is a representation of the culinary wisdom and heritage of Thailand that are narrated through meticulously crafted fare of royal and regional dishes.
In acknowledgement of its excellence and cherishment for Thai cuisine, R-Haan has been awarded two Michelin stars, along with many other awards.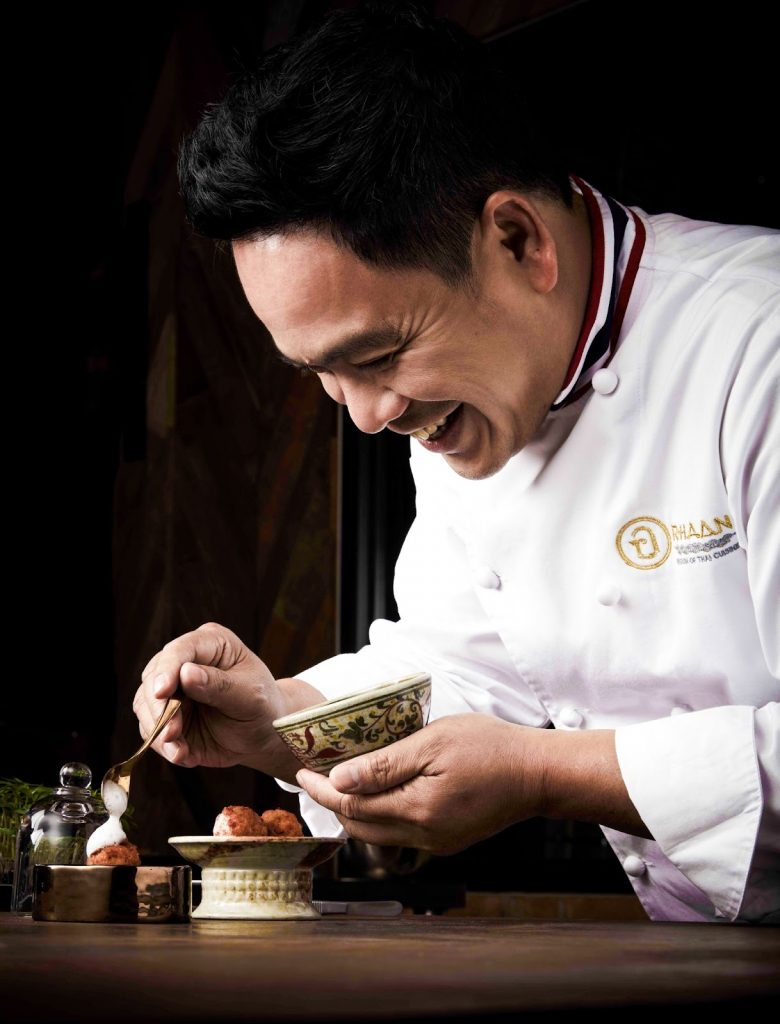 Founded by Piti Bhirom Bhakdi and culinary led by one of Thailand's most celebrated Chef Chumpol Jangprai, R-Haan serves food that represents a meeting point between Thai culinary past and its future. Here, guests can expect to savour unadulterated Thai dishes that are creatively presented, not only to please your palate but to also tantalize your eyes.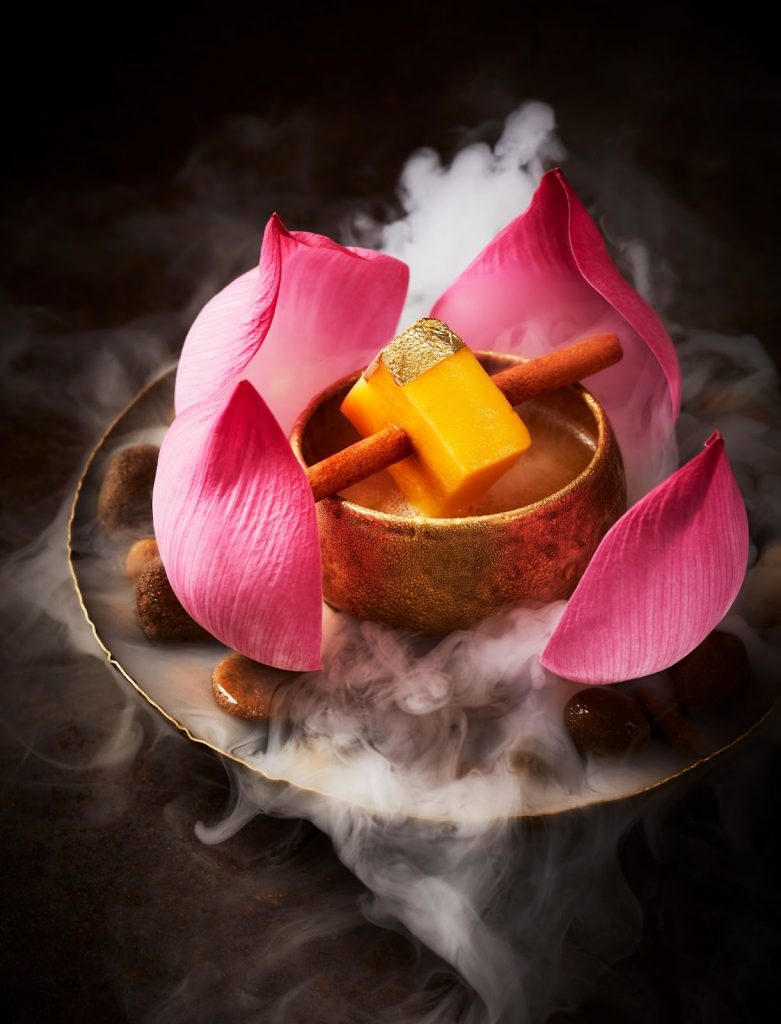 We visited the restaurant recently and here is our recap on the meal. The long, Thai art-adorned corridor first led us to the lounge, where we cosied up with their signature Thai cocktails — a warm greeting that came in a form of delicious concoctions, who would not adore this? Tomyum-Tamgang is a must-try cocktail for those who have a fondness for Thai hot and sour soup, except this cocktail is heavily spiked with gin.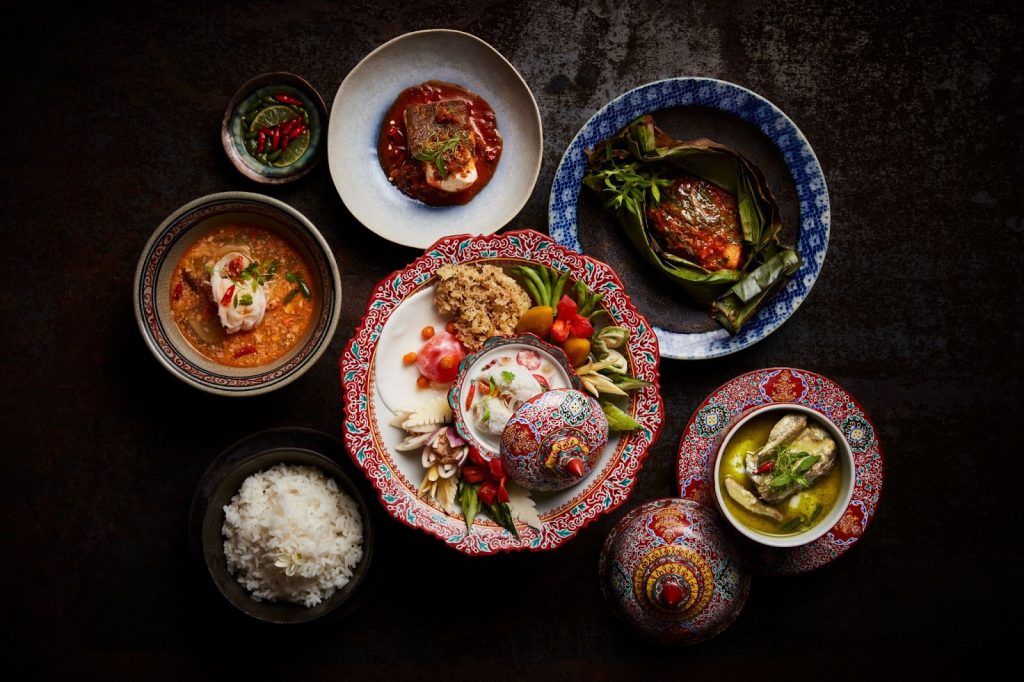 Then, we were led past the red-blasted bar area that exuded a vigorous vibe to get us ready for the show-like meal, which was about to come next.
"The Wisdom Symphony of Sustainable Samrub" was the tasting menu we got to experience. It's important to note that the menu changes seasonally, to best utilise local ingredients and to create dishes with a flavour profile that reflects that time of year. However, diners can expect the main staples that will always remain on the menu through all seasons, including grade-A jasmine rice from Chiangrai and Ubon Ratchathani, and premium, house-made fish sauce.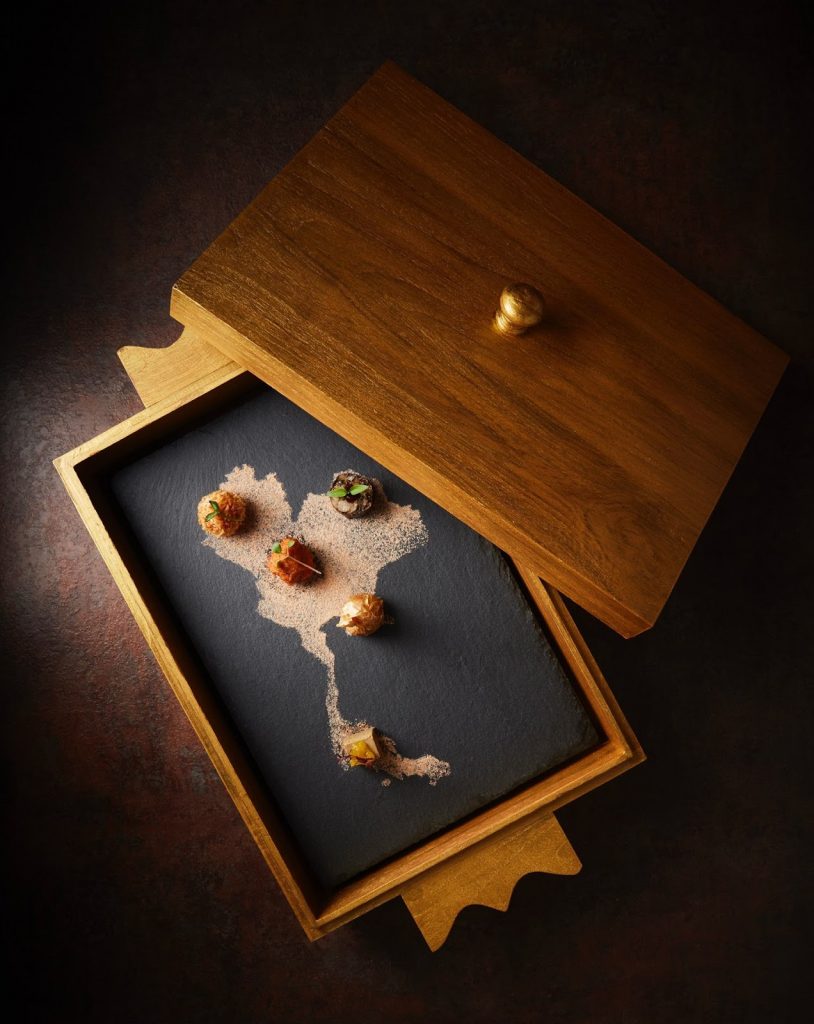 We were first delighted with amuse-bouche that consisted of Sai Ua, Rice Cracker topped with 18 month-fermented fish, Chinese Chive Crepe, Grilled Betong Chicken and Fish Cake. The five items were displayed on fine, ground lobster shell that was arranged in the shape of Thailand map.
Next, we got to try Pak Waan Jelly topped with ant eggs, Pickled Organic Duck Egg Yolk showered in paloh (pork and egg stew), Crab Dip and Organic Duck Breast Red Curry with Lychee—all delights. However, the highlight of the menu is really the River Prawn Tom Yum Soup, which was prepared by our tableside, in a distillation apparatus! Playful and delicious.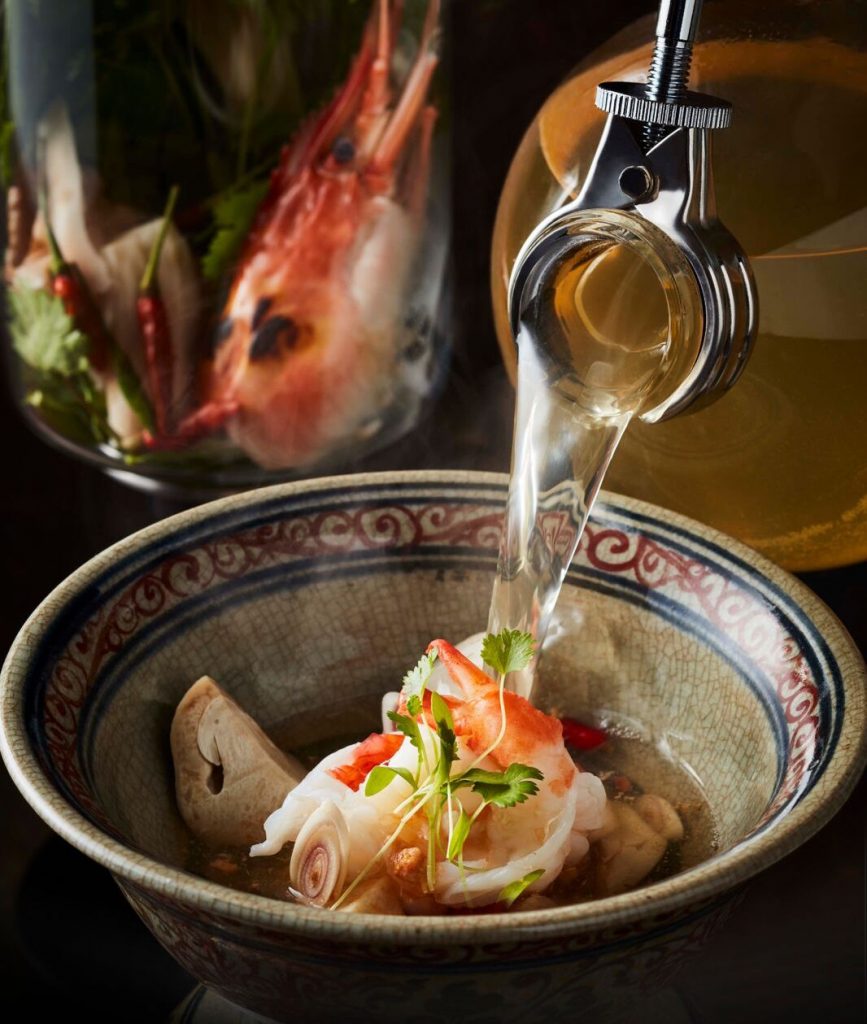 For desserts, we had Mango Sticky Rice, which we initially thought was a cliche choice, but soon changed our mind once we saw R-Haan's version of this Thai national dessert.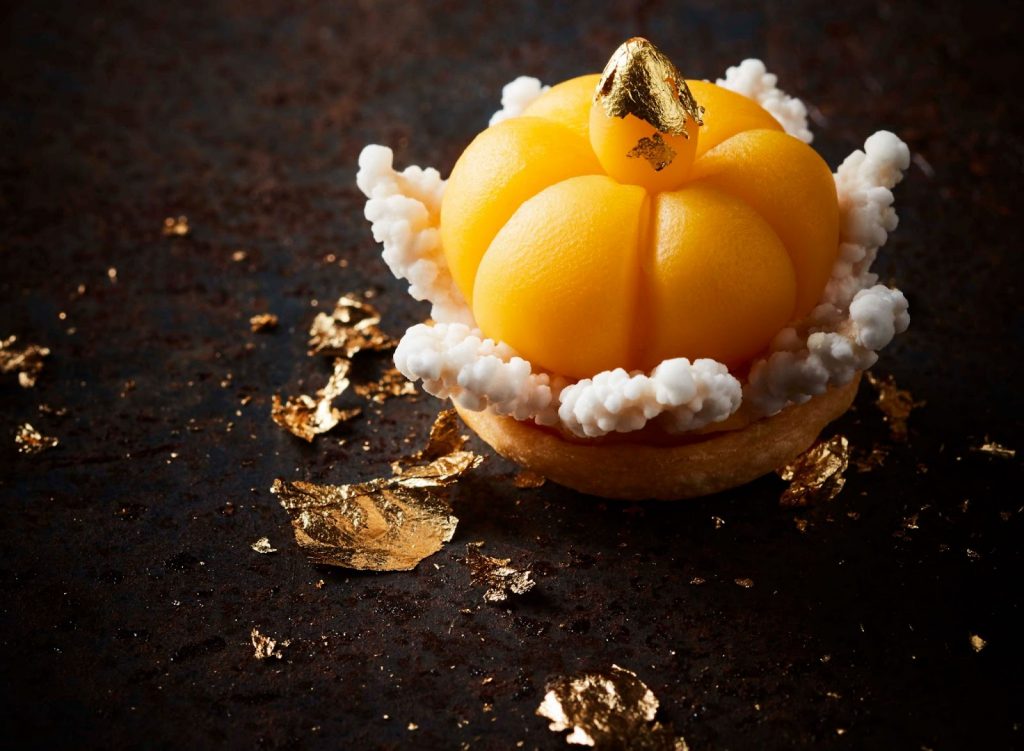 To finish off, they served petit four consisting of royal Thai desserts, including Jah Mongkhut, Thong Chompu Nuch and Steamed Banana Cake.
Needless to say, it was a wonderful meal. Besides pleasure and comfort, the meal at R-Haan gave us an insight into what Thai cuisine once was and what it could become, in our city where tradition and innovation coexist.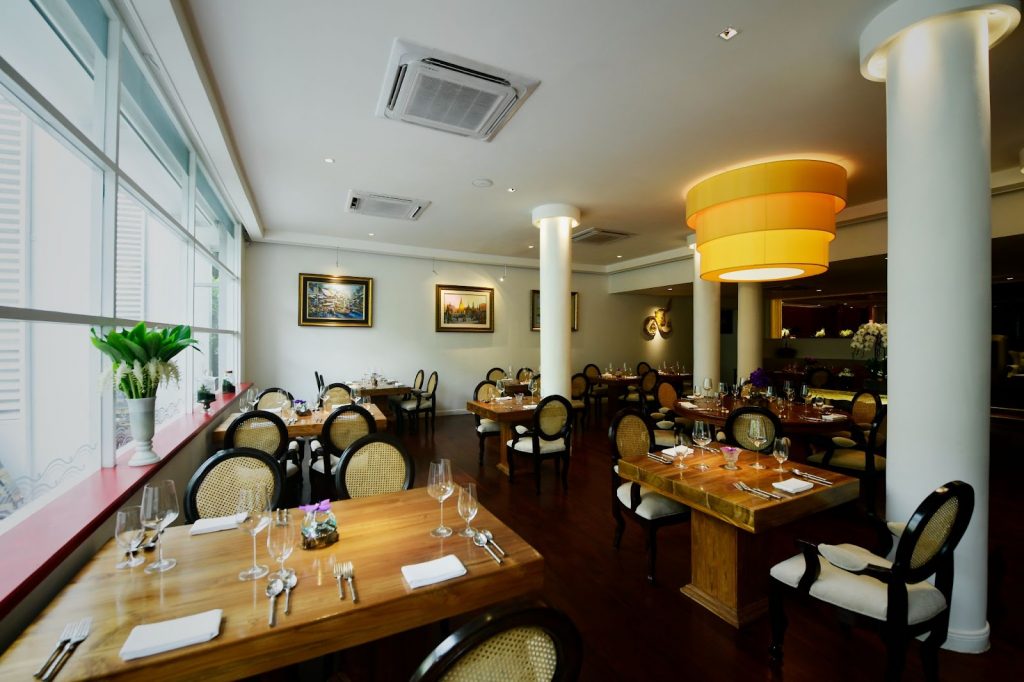 For those who are already planning to make a booking, fair warning: the tasting menu at R-Haan often comes with at least 18 items, so go hungry!
(All images above courtesy of R-Haan)